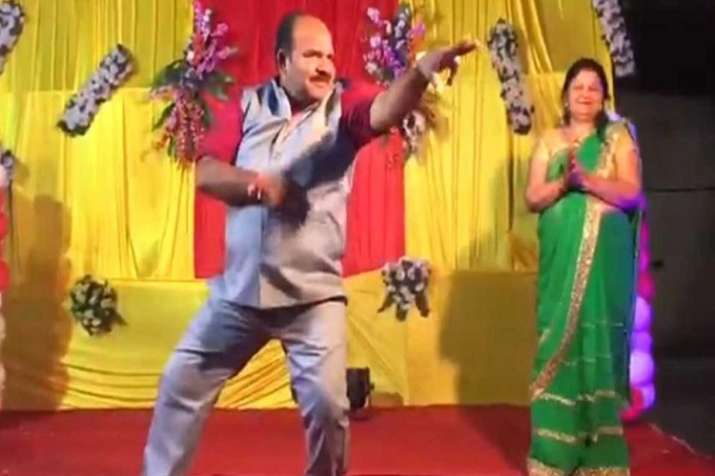 Sanjeev Srivastava, an electronics engineer by profession, is an ardent fan of Bollywood star Govinda. Srivastava says he has been dancing on Bollywood numbers since decades, however, the popularity that a video clip of him shaking his legs on a Govinda number has brought is unreal. 
Srivastava's video of performing during a marriage function went viral a couple of days ago. And since then netizens have gone berserk over the 46-year-old's dancing talent. His cool moves have now earned him the moniker 'Dancing Uncle' on the social media. 
"This is an unreal feeling. I can't believe my dance video has gone viral. I thank everyone for the love and support. I have been dancing since 1982 and my idol is Govinda ji. Now I hope to get more opportunities," Srivastava, who hails from Vidisha, said. 
Also Read: All you need to know about the latest internet sensation- The Dancing 'Uncle'
Not only commoners but famous personalities such as  Madhya Pradesh CM Shivraj Singh Chouhan, Bollywood actresses Raveena Tandon, Divya Dutta are in awe of the electronic professor's electric dance performance.
Check out some of the tweets in praise of the 46-year-old internet dancing sensation:
हमारे विदिशा के भोपाल में कार्यरत प्रोफ़ेसर श्री संजीव श्रीवास्तव जी की ज़िंदादिली ने पूरे भारत में इंटरनेट पर तहलका मचा दिया है। मानो या ना मानो मध्यप्रदेश के पानी में कुछ तो ख़ास बात है... pic.twitter.com/8qM15uZVXF

— ShivrajSingh Chouhan (@ChouhanShivraj) June 1, 2018
Faaaaab!!!!!👏🏻👏🏻👏🏻👏🏻👏🏻 a big hug to him !!!!😊😊😊👍🏻👍🏻👍🏻👍🏻👍🏻 https://t.co/IaJRpQ9Xsh

— Raveena Tandon (@TandonRaveena) May 31, 2018
46 year old college professor from Bhopal Sanjeev Shrivastav is latest Indian social media star. His dancing moves on a famous Bollywood song in a wedding made him internet sensation overnight. Here is his #ViralVideos #SanjeevShrivastava #dabooji pic.twitter.com/DZtCKh9ofr

— Som Patidar / सोम पाटीदार (@patidarsom) June 1, 2018
Govinda from Vidisha, hats off sir.. his latest video @shailendranrb @govinda @manishndtv @AdityaRajKaul @KaptanHindustan @bhaiyyajispeaks #SanjeevShrivastava #DancingUncle #Vidisha pic.twitter.com/xNdhRsSPps

— Anurag Dwary (@Anurag_Dwary) June 1, 2018