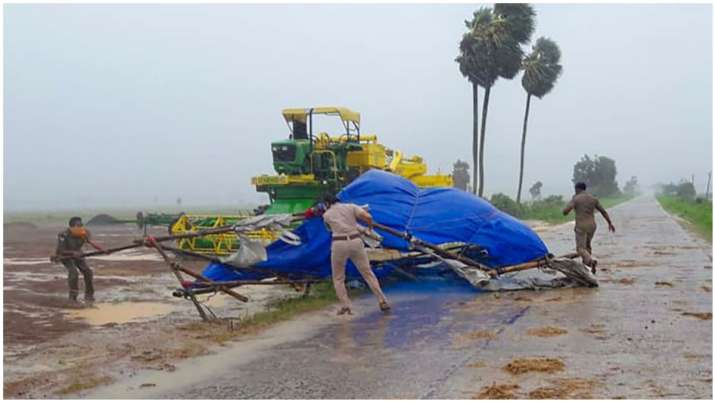 A powerful cyclone Amphan has left at least 14 people dead in India and eight dead in Bangladesh, according to officials. National Disaster Relief Force personnel immediately swung into action clearing roads blocked by uprooted trees. The cyclone rolled inland on Wednesday after crashing into the coasts of India and Bangladesh, where over 2.6 million people fled to shelters in a frantic evacuation made more challenging by the coronavirus pandemic.
Cyclone Amphan, the equivalent of a Category 3 hurricane, was packing sustained winds of up to 170 kph (105 mph) with maximum gusts of 190 kph (118 mph) during its landfall. 
But what exactly is landfall of a cyclone?
According to the US National Hurricane Center, landfall is "the intersection of the surface centre of a tropical cyclone with a coastline. Because the strongest winds in a tropical cyclone are not located precisely at the centre, a cyclone's strongest winds can be experienced over land even if landfall does not occur. Similarly, a tropical cyclone can make landfall and have its strongest winds remain over the water.
Strong winds caused by cyclone Amphan washed away bridges connecting several Indian islands to the mainland and left many areas without electricity or phone service. As the cyclone hit the coast, coconut trees swayed wildly, electric poles lay scattered on the roads of Kolkata, rain pounded fishing villages and rivers surged. 
Thousands of homes were damaged and river embankments were washed away. 
The region, with 58 million people in the two bordering countries, has some of the most vulnerable communities in South Asia. They include poor fishing communities in the Sunderbans and more than 1 million Rohingya refugees living in crowded camps in Cox's Bazar in Bangladesh. 
A woman crushed by a tree and a 13-year-old girl killed near Kolkata were among the first deaths reported in India. In southern Bangladesh, a volunteer in a cyclone preparedness team drowned when a boat capsized in a canal.
The cyclone made landfall between the seaside resort of Digha in West Bengal and Bangladesh's Hatiya Island. The eye of the storm was likely to pass through the Sunderbans, one of the largest mangrove forests in the world, India's meteorological department said.
(AP Inputs)