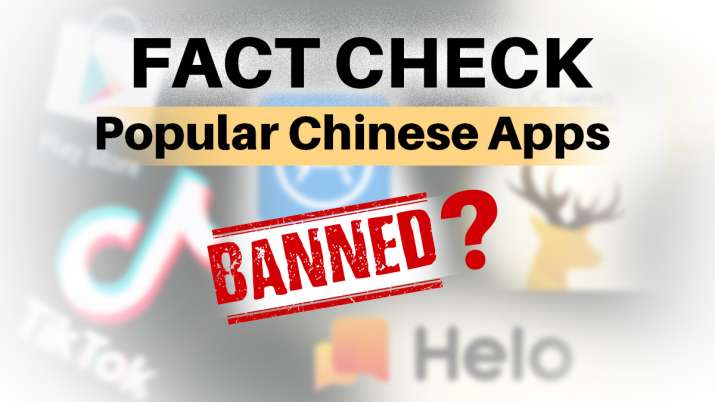 Couple of days ago, a leading daily claimed that Indian intel and security agencies have found serious security breach in popular Chinese apps like Tik Tok, Helo, UC News and there use was a threat for the country. 
According to the intel agencies, these Chinese apps end up extracting a large amount of data from Indian users and keep it stored on servers outside the country, a leading daily reported. The report came amid heightened Indo-China tension following the killing of 20 Indian soldiers by Chinese PLA in Ladakh's Galwan Valley. 
Following the report, several messages on social media claimed that the Indian government had banned or warned against the use of popular Chinese Apps. 
CLAIM 1: A message on WhatsApp also claimed that the Uttar Pradesh STF has advised all its officers and employees to not use Chinese Apps. 
In a widely circulated message, the Uttar Pradesh STF also listed 52 Chinese Apps that were dubious and posed a threat to national security and users proivacy. 
Here's a picture of the alleged UP STF advisory against the use of Chinese Apps.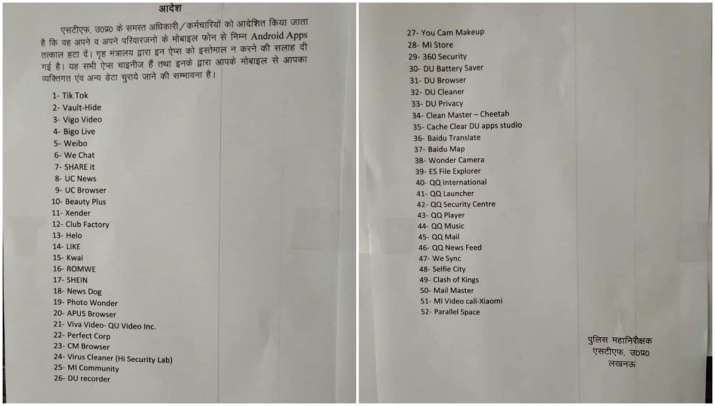 FACT:  The Uttar Pradesh STF has not issued any advisory banning use of Chinese Apps like Tik Tok, UC Browser or We Chat. 
Here's a clarification by the Press Information Bureau of India on the viral claim regarding 52 Chinese Apps. 
सोशल मीडिया पर वायरल एक संदेश में एसटीएफ द्वारा कुछ ऐप का प्रयोग नहीं किए जाने का दावा किया जा रहा है#PIBFactCheck: खबर झूठ है, एसटीएफ द्वारा ऐसी कोई एडवाइजरी जारी नहीं की गई है pic.twitter.com/ittgwiAjYb

— PIB Fact Check (@PIBFactCheck) June 19, 2020
CLAIM 2: However, there was another claim attributed to the Government of India regarding the Chinese Apps. Some reports and messages on social media claimed that India's National Information Center had warned or asked Google Play Store and Apple Store to restrict/ban a list of Chinese Apps as they compromised the 'sovereignty of the country'. The viral message claimed that the GOI has used its power under the IT Act and asked Google Play Store and Apple Store to restrict the use of Chinese apps with immediate effect.
The claim was widely circulated and credence in the anti-China sentiment prevalent in the country due to the Galwan Standoff. 
But let's get to the facts: 
FACT: Government of India or any of its ministry or official handle has not issued any such advisory against the 52 popular Chinese apps. PIB Fact Check in a tweet has already clarified that such news are fake. 
PIB FACT CHECK on the viral claim regarding Chinese Apps
Claim: A viral message of an order allegedly from NIC claims that @GoI_Meity has prohibited some apps from being made available on App Stores. 
#PIBFactCheck: The Order is #Fake. No such instruction has been given by @GoI_MeitY  or NIC.
Claim: A viral message of an order allegedly from NIC claims that @GoI_Meity has prohibited some apps from being made available on App Stores. #PIBFactCheck: The Order is #Fake. No such instruction has been given by @GoI_MeitY or NIC. pic.twitter.com/Dt7rMR7nIz

— PIB Fact Check (@PIBFactCheck) June 19, 2020