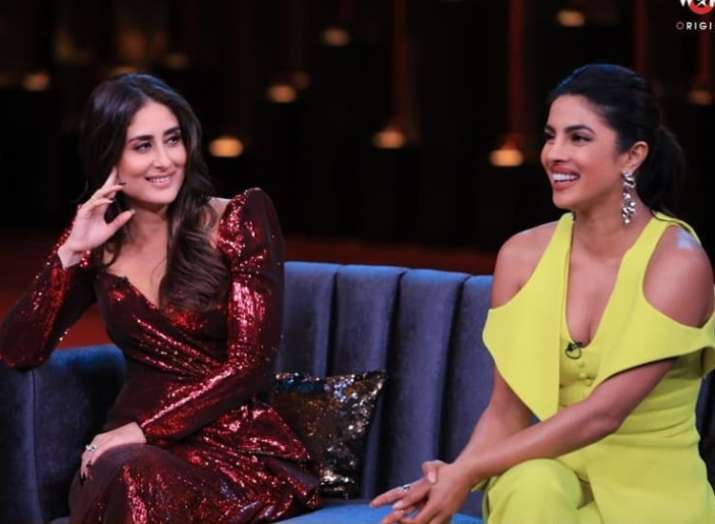 Priyanka Chopra and Kareena Kapoor Khan, Bollywood's two biggest beauties, added fire and sparks to the finale episode of Karan Johar's most entertaining chat show Koffee With Karan. Kareena, who was last seen in Veere Di Wedding, made a rather shocking revelation about her husband Saif Ali Khan's first wife Amrita Singh saying that she has never met Amrita but have high regards and respect for her,
From talking about their respective marriage proposals to their animosity, Taimur and rumoured link-ups in Bollywood, the two divas talked about everything under the sun and made sure it was a fun-loaded finale episode. There was a time when Priyanka and Kareena won't even say eye-to-eye with each other and today, they graced the 'Koffee Kouch' like two long-lost best friends. Other than being proposed to in Greece, the two actresses had an ex-boyfriend in common which added the extra spark to the already fiery evening. Here are some of the spicy highlights from the finale episode of Karan Johar's Koffee With Karan 6 featuring Priyanka Chopra and Kareena Kapoor Khan-
Animosity between Priyanka Chopra and Kareena Kapoor Khan
This doesn't come as a surprise that host Karan Johar started the episode by bringing up the animosity between the two actresses and how they didn't get along well earlier. Being their candid best, PeeCee and Bebo cleared the air and denied all such rumours. Priyanka said, "I think we didn't really know each other. By the time we started spending time with each other and getting to know each other, we really get along. Till we didn't know well, we had this weird energy." Karan also talked about the common point between them- ex-boyfriend Shahid Kapoor, to which PeeCee claimed, "That was not a point of contention, it was only a point of commonality. " Kareena said, "Yes, exactly!"
Kareena and Priyanka's marriage proposal
After teasing the beauties with Shahid Kapoor's name, Karan Johar switched to the married lives of the beauties and asked about their marriage proposals. Priyanka opened up about her wedding and said, "Our wedding was really a fun wedding. It was just my family and his family." On the other hand, Kareena revealed that Saif proposed her in Greece when they was shooting for Chaliya Chaliya. He told her that he wants to get married to her next morning itself even if it's a church or anywhere. To this peeCee was shocked and revealed that even she got proposed in Greece.
On the other hand, Priyanka recalled her marriage proposal and said, "It took me 45 seconds to say yes as we dated just for 2 months. He was on his knees and he had this big tiffany box which had another box." 
Kareena Kapoor Khan on Amrita Singh
Next, the duo talked about Kareena Kapoor Khan's husband Saif Ali Khan's ex-wife Amrita Singh. She said, "we've never met but I have the utmost respect and regards for her. I met Saif many years after he got divorced. So, it was not on anyone's time. He was clearly single."
Priyanka Chopra on Jonas family
Priyanka said, "They are like 4 brothers and 4 wives and their children. It's culturally different, but they are so embracing for me it's culturally different when I go with his family and do Thanksgiving. Initially it was for fun but now it's important. Things like that I am also learning. Two people just want to be together and I adorn his family. I love his mum."
Kareena Kapoor Khan's verdict on Taimur Ali Khan dolls
"I'm sorry to say that looks like Chucky the doll and doesn't look like Taimur Ali Khan, at all...It has some strange blue eyes, some scruffy hair and bandhgala that does not make him my son."
Reacting on paparazzi attention over Taimur, Bebo said, "He waves back because he understands that everybody calls him -Taimur, Taimur. He is a friendly child. But of course, we are very scared about it. I can't stop him from going out. I can't stop him from going to playschool. I can request the papz to not take his picture."  Earlier when Saif Ali Khan had appeared on KWK 6 with daughter Sara Ali Khan, the actor said that he is happy how people are benefiting from his son. He said, "I am glad people are benefiting from him; the least they can do is send me one."
Priyanka confirms Arjun Kapoor and Malaika Arora's relationship
This is no secret that Karan Johar and Kareena Kapoor Khan have a Whatsapp group together called GUTS in which they talk about industry gossips and fashion statements by other celebrities. While KJo and Bebo know all the Bollywood gossips, Karan asked Priyanka if she knows who Varun Dhawan is dating and she said no. PeeCee revealed "I only know Arjun and Malaika are dating." If this isn't a confirmation, then what is? Karan then asked Bebo if she is the bridesmaid for Malaika. Kareena smartly dofges the question and asked PeeCee to give her some hollywood gossip.  
Priyanka and Kareena's KWK journey
The episode wouldn't have been complete without going down the memory lane to the two actress' Koffee With Karan journeys. Karan showed them clips of their earlier appearances in which they talked about each other and left them in splits.
Kareena Kapoor Khan on Sara Ali Khan and Kartik Aaryan
Kareena said, "He is wonderful. I think they'll make a good pair. They are planning to do a movie together." She further added, "They look good. He's massy. She's classy. Mass and class always work." Questioning if Karthik is classy or not, Bebo replied to Priyanka after a pause, "But Sara is classy."
Rapid Fire Time
The actresses were on fire with their answers in the Rapid Fire round. While Kareena revealed that she would love to see Katrina Kaif, Deepika Padukone and Alia Bhatt locked up in a room together to witness some drama, Priyanka Chopra was asked to choose between Sanjay Leela Bhansali and Vishal Bhardwaj. By the end, Karan Johar declared a tie between Kareena and Priyanka and also asked a tie-breaker question. KJo asked which movie of 2018 they found overrated. Priyanka answered Ranbir Kapoor starrer Sanju and won the Koffee hamper.
More Bollywood stories and picture galleries
For all latest news and updates, stay tuned to our Facebook page