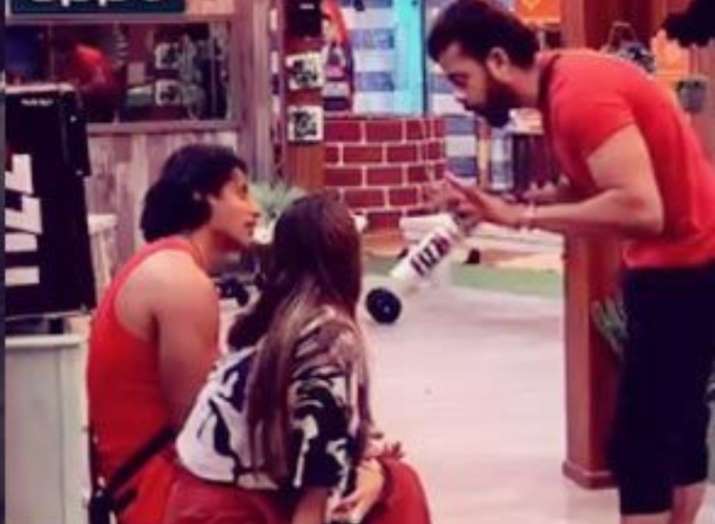 Bigg Boss 12 October 31 Highlights: After a heated first day of Diwali celebrations week, housemates are all geared up to win the BB Gaon Ki Rangoli task at any cost. This sparks fire between Sreesanth and Vikas Gupta as the two indulge in a battle of words. On the other hand, Sreesanth also lashes out on Karanvir Bohra in today's episode for hitting him during the task. All housemates try to make peace in the house but Sreesanth is not ready to listen and Shilpa Shinde enjoys the show from the sidelines.  As Dipika stands with Karanvir, will this end Sreesanth's friendship with the two?  
BB Gaon ki Rangoli task mein shuru hua jhagda kya le aayega @sreesanth36, @KVBohra aur @ms_dipika ki tagdi dosti mein daraar? Jaanne ke liye dekhiye #BB12 aaj raat 9 baje. #BiggBoss12 pic.twitter.com/0l5YWqT2uU

— COLORS (@ColorsTV) October 31, 2018
10:00 pm- Karanvir is very upset with Sreesanth and refuses to apologise. However, he eventually apologises the next day. On the other side, Deepak is cleaning the jail saying housemates will name him to go to jail. Surbhi and Somi make fun of Deepak by saying we will celebrate Bhaidooj.. Romil and Deepak are discussing that sreesanth is playing the game by the way he is fighting with Karanvir.
09:50 pm- Sreesanth lashes out on Karanvir yet again. Karanvir tries to stay calm as the whole house supports him. Sreesanth even showers anger on Dipika and say she is lying and supporting Karanvir. Everyone tries to calm Sreesanth down.
Kya @sreesanth36 aur @KVBohra ke beech pad jayegi daraar ek task ke wajah se? Stay tuned for all the gossip. #BB12 #BiggBoss12

— COLORS (@ColorsTV) October 31, 2018
09:35 pm- Vikas and Shilpa leave the house. Deepak sings 'Tum Kahan Hum Kahan' for Vikas and Shilpa before they exit the house.
09:30 pm- Sreesanth and Vikas get into a heated arguement on the use of the word 'batameez'. While Surbhi supports Sreesanth, Megha and Dipika support Vikas. Sreesanth opposes friend Karanvir as well and tries to steal Rangoli making items from him. The fight is heating up with every moment. Sreesanth is asking Bigg Boss to take the action against KV for pushing his hand. Dipika burst into tears seeing what all is happening. Housemates make fun of Dipika for crying. Bigg Boss declares Gupta Parivar winner of BB Gaon Ki Rangoli task.
.@lostboy54 ka kehna hai ki @sreesanth36 layak nahi hai baat karne ke! Will the housemates be able to calm them down? #BB12 #BiggBoss12

— COLORS (@ColorsTV) October 31, 2018
.@sreesanth36 hue aag baboola @KVBohra par and @ms_dipika is trying to mediate the situation. #BB12 #BiggBoss12

— COLORS (@ColorsTV) October 31, 2018
09:15 pm- BB Gaon Ki Rangoli task begins. Contestants try to spoil each other's task. Megha and Deepak play with words and call each other pimple. On the other hand, Vikas Gupta is angry with Sreesanth for not participating in the task and sitting on the sidelines. Even Jasleen is upset with Sreesanth for not participating. Sreesanth joins the Shinde family. 
#JasleenMatharu and @ms_dipika are trying to calm @sreesanth36 down but to no success! #BB12 #BiggBoss12

— COLORS (@ColorsTV) October 31, 2018
09:05 pm- Housemates wake up to the beats of 'Ek ladka hai deewana'. Vikas Gupta gives quick tips to Karanvir Bohra for the game, says take the lead without hurting anyone physically. Karanvir Bohra dances with Somi as Deepak feels jealous. 
Ho rahi hai suron ki jugalbandi #UrvashiVani aur #DeepakThakur ke beech! #BB12 #BiggBoss12

— COLORS (@ColorsTV) October 31, 2018
For all the buzz related to Bigg Boss 12, Click here
More Bollywood stories and picture galleries
For all latest news and updates, stay tuned to our Facebook page