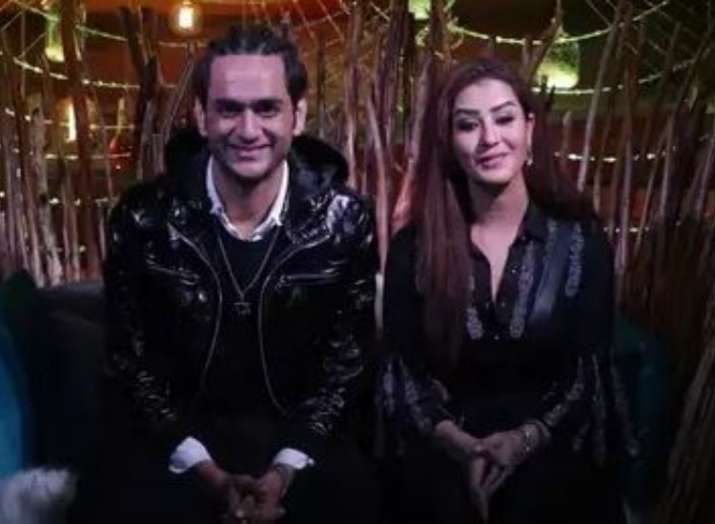 Bigg Boss 12 October 30 Highlights: Ex-Bigg Boss contestants Shilpa Shinde and Vikas Gupta enter the house in today's episode. While they bring in a lot of Diwali madness, they urge the contestants to bring out their wild sides and add some spark into the house. As the bright festival of Diwali inches closer, Vikas and Shilpa also indulge in Bigg Boss house competitions, the first being Rangoli making task. On one side, Vikas is supporting the Wolf Pack, Shilpa Shinde on the other side supports Happy Club. Who do you think will win by the end of this Diwali week in Bigg Boss house?
10:00 pm- Megha tries to figure out her way to gain trust of housemates starting with Romil Chaudhary. Megha asks Romil if she will ever get the same respect in Happy Club. On the other side Deepak discusses about himself and Somi with jasleen. He jokes that he has become Jaipur Ka Damaad.
.@lostboy54 advice de rahe hai @ms_dipika ko to speak up when @sreesanth36 does something wrong! #BB12 #BiggBoss12

— COLORS (@ColorsTV) October 30, 2018
09:50 pm- Somi is upset that her name is being linked with Deepak. Even Vikas Gupta tells her that she has become Bihar's Bhabhi. Surbhi admires Sreesanth's kids and apologizes to him. The two clear out everything they have said to each other. On one hand, Vikas shows the mirror to Dipika, Shilpa tries to make Sreesanth understand the game.
.@sreesanth36 gets emotional as he's missing his family and #SurbhiRana apologizes to him for her rude behaviour. #BB12 #BiggBoss12

— COLORS (@ColorsTV) October 30, 2018
09:35 pm- The BB Gaon Ki Rangoli competition begins. Vikas and Shilpa lock horns as they have to decide which team wins. Vikas' team wins the first round. Jasleen is upset with Anup Jalota's statement outside the house that he was never in a relationship with her.  On the other hand, since Vikas and Shilpa could not decided who win the second round, Bigg Boss decides to cancel it.
.@ShindeShilpaS aur @lostboy54 ke beech shuru ho chuki hai behas luxury budget task mein! #BB12 #BiggBoss12

— COLORS (@ColorsTV) October 30, 2018
09:25 pm- As Shilpa and Vikas enter the house, contestants are shocked if they have entered as wild card entries or as guests. Shilpa Sinde compliments Sreesanth. Bigg Boss announced first Diwali task, BB Gaon Ki Rangoli competition which will be fought between Gupta Parivaar and Shinde Parivaar. Contestants plot how to win the first task.
.@ShindeShilpaS aur @lostboy54 #BB12 mein aaye hain contestants ke saath Diwali manane. Kya ab hoga #BiggBoss12 ke ghar mein bada dhamaka? @PanasonicIndia pic.twitter.com/yHspHO0NYu

— COLORS (@ColorsTV) October 30, 2018
09:15 pm- Deepak flirts with Somi, compliments her makeup and beauty. This makes Urvashi upset. On the other hand, Surbhi confronts Romil for talking to Sreesanth. She expresses her displeasure on it and Romil gets irritated with it. This sparks a fight between them. Deepak tried to give Somi cookies in a very adorable way. Housemates make fun of Deepak as Somi ignores him. Vikas Gupta and Shilpa Shinde enter Bigg Boss 12 house.
#RomilChoudhary can't trust @sreesanth36 in the #BB12 house but #SurbhiRana thinks that it's otherwise. #BiggBoss12 @AlmondDrops

— COLORS (@ColorsTV) October 30, 2018
#DeepakThakur laaye hain #SomiKhan ke liye cookies aur kar rahe hain koshish unhe impress karne ki. #BB12 #BiggBoss12 @SportobyMacho

— COLORS (@ColorsTV) October 30, 2018
09:05 pm - Housemates wake up to popular Bollywood track 'Rangeela Re'. The contestants morning start with planning for this week's luxury budget task. Sreesanth plots with Jasleen and Shivashish on the other hand Dipika plots with Karanvir. Surbhi and Somi are upset that Romil is talking to Sreesanth. After which contestants fight on who will clean the bathroom.
.@sreesanth36, #JasleenMatharu aur #ShivashishMishra ne shuru kar di hai planning luxury budget task ke liye! #BB12 #BiggBoss12

— COLORS (@ColorsTV) October 30, 2018
For all the buzz related to Bigg Boss 12, Click here
More Bollywood stories and picture galleries
For all latest news and updates, stay tuned to our Facebook page