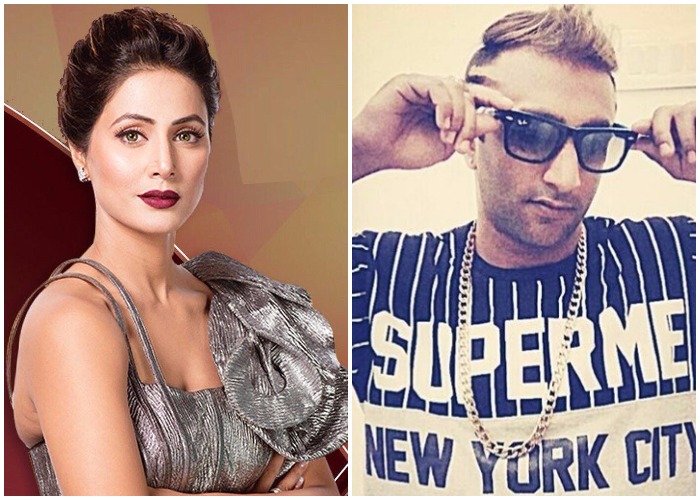 So it was Weekend Ka Vaar last night. It's the night when host Salman Khan grills the housemates for their performance throughout the week. In Saturday's episode, he made the Red Team and the Blue Team sit together. He asked them what they understand by this weekly luxury budget task. This time, it wasn't Arshi or Luv, but Dhinchak Pooja who was made to sit on the bull for being the weak performer of the task. Salman Khan mocks Akash Dadlani that he couldn't understand a single word of his signature rap 'Bang Bang'. 
Watch @beingSalmankhan rap in Dhinchak Pooja's style tonight at 9pm! Stay tuned for all the fun on #WeekendKaVaar pic.twitter.com/XEeyGQBwJh

— Bigg Boss (@BiggBoss) October 28, 2017
Salman Khan makes Sapna Choudhary apologise 
Now host Khan turns towards Sapna Choudhary. He also accuses her of not performing in any weekly task. To this, she argued that she's not on talking terms with most of the contestants in the house. Thus she remains passive in the house. Sapna accuses Vikas Gupta for being too self-centred but Salman gets back at her saying that she herself makes personal attacks on the housemates, indicating her 'Pune-Goa' remark about Arshi Khan. He insists Sapna to apologise for her personal remarks. 
Salman Khan declares Vikas Gupta the mastermind of luxury budget task 
Now, host Salman Khan turns to Vikas asking him how he was so sure that Dhinchak Pooja was the weakest contender in the red team. He said that he could sense that Pooja wasn't bonding with the teammates and she will be attacked by the rest of them. 
Hina takes the turn to explain why Dhinchak Pooja is the worst performer of the task. She tries to justify her decision, which Vikas Gupta finds quite funny. He says that he knew that Hina will try her best to prove herself right. 
Dhinchak Pooja tells Salman Khan why she left the task 
Citing her health condition, Pooja said that she was not able to sit any longer. She also says that before entering the Bigg Boss, she hadn't watched a single episode of the show. This leaves everyone in splits. 
Hina Khan blames Luv Tyagi for not supporting her team fully 
She says that Luv could've made some more efforts to make the Red Team win. Salman Khan counter-argues that despite so many strategies, the task was a complete dud. He also says that Luv was himself a poor performer. 
Gauhar Khan enters the house with a gift of 'special power' 
Ex-Bigg Boss winner Gauhar Khan enters the house and explains the task in which the contestants can win a special power. They have to convince her why they deserve to be in the show and why they should be given the special powers. Gauhar also blames Puneesh for being too clouded by Bandgi's opinions. 
Which #BB11 housemate will convince @GAUAHAR_KHAN & get the power? Find out tonight at 9pm! #WeekendKaVaar #BBSneakPeek pic.twitter.com/QAtiQbloZd

— COLORS (@ColorsTV) October 28, 2017
She suggests Hina Khan to not bring anyone's family in her fights with them. 
Vikas doesn't want the special power to stay in Bigg Boss
Vikas Gupta says that he does not want the special power to stay in Bigg Boss as he has enough zeal to survive. He is however, not convinced that he can win the show. He also says that he is not that popular outside the house. 
Vikas says he want to change the hatred into love with Shilpa Shinde 
Vikas Gupta explains why he hugged and kissed Shilpa Shinde despite so many ugly brawls in the beginning of the season. He argued that he wants to change the hatred into love with Shilpa Shinde. 
Gauhar chooses Akash Dadlani for the special power 
She advises Akash to control his madness and start contributing to the household chores. The top three contenders for the special power chosen by her were Akash Dadlani, Vikas Gupta and Arshi Khan. But she zeroes to Akash Dadlani for special power. He can protect himself from nomination during any one week. 
Akash, Shilpa and Vikas are safe this week
Salman Khan declares that Shilpa Shinde, Vikas Gupta and Akash Dadlani are safe this week from eviction. He also asked the housemates if they are happy with Gauhar's decision to give the special powers to Akash Dadlani. 
Golmaal Again team celebrates success with Bigg Boss 
Parineeti Chopra says that nobody visits the shows after their film becomes a hit. So this time they've come not to promote their film but to celebrate the success with Bigg Boss and its fans. Golmaal Again team meets the housemates.  
Arshi Khan is superhit, Dhinchak Pooja is hit and Akash Dadlani is blockbuster, this is what the housemates unanimously decide when Salman Khan asks them to give the name of three contestants who are hit, superhit and blockbuster. 
But according to people who are watching Bigg Boss, Akash Dadlani is on Hit position, Shilpa Shinde is on Superhit while Hina Khan is at Blockbuster position. 
Dhinchak Pooja and Sapna Choudhary in Sultani Akhaara 
Salman Khan pitches Sapna and Pooja against each other. He also asks Pooja not to hit Sapna very hard. In the first round, each of them has to explain why they find themselves more entertaining than the other. Pooja wins the rounds with her arguments. 
It's Sapna vs Pooja in today's Sultani Akhada! Who do you think will win? #WeekendKaVaar pic.twitter.com/QTsqfItmXN

— COLORS (@ColorsTV) October 28, 2017
The second round is a tug of war between them. Pooja loses this round to Sapna Choudhary. In the third round, one contestant has to support them. Hiten is supporting Sapna while Luv is having Pooja's back. Sapna wins the third round. Salman Khan says that she is safe from eviction. 
Benafsha, Luv or Jyoti; who's evicted this week? 
Benafsha, Luv and Jyoti have the sword of eviction around their neck. But the results will be declared on Sunday by Salman Khan.