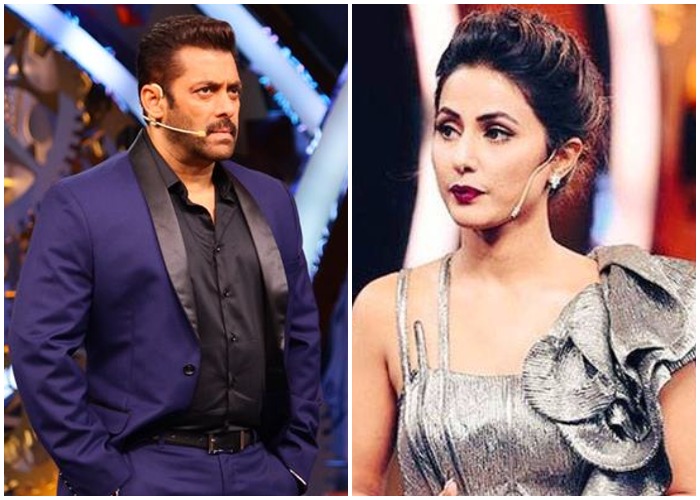 Last night's Weekend Ka Vaar was all about Priyank Sharma, Sapna Choudhary and Hina Khan. After all, the mistake committed by Priyank wasn't worth letting go. In previous episodes, Priyank was heard talking about Arshi Khan and Shilpa Shinde's body type. In a fit of anger, he resorted to bodyshame Shilpa and Arshi, while calling them names like 'Saand' and 'drum'. This didn't go well with host Salman Khan, as expected. But it was surprising when Salman rebuked Hina Khan along with Priyank. He accused Hina of adding fuel to the fire by not correcting him when required. This infuriated Hina, who is already looking very frustrated in the house.
As soon as Salman Khan took a short leave from the house, housemates ganged up on Hina Khan, confronting about Priyank Sharma's bodyshaming comment. Hina sat down along with her close friends in the house, Priyank, Luv and Sapna. She is heard saying that the makers are biased towards Shilpa Shinde and Vikas Gupta.
Here's what she said: Arey bhai, yeh inhi ka show hai, inhi se chalega. Saaf saaf pata chal raha hai. (You don't know, Bigg Boss is all about Vikas Gupta and Shilpa Shinde. It will continue to be about them. It is so obvious now!)
Hina thought that Salman Khan isn't watching over them. But she was wrong. Right in that moment, Salman Khan switched the TV to confront Hina Khan on her statement. He said," Uh, Hina, Aap kuch keh rahin thi abhi?"
Hina Khan resorted to lying through her teeth and refused that she said anything about Salman Khan or the makers. Salman even asked if she thought that he's being partial for Shilpa Shinde and her gang.
She said that Salman Khan is not looking at her 10 good deeds but catching hold of her for her one mistake. He, in turn, tried to pacify Hina that things work like this only. People are targeted for their one mistake while their hundred good deeds go unnoticed.
This week, Hina Khan, Shilpa Shinde, Priyank Sharma and Sapna Choudhary were nominated for eviction. Yesterday, Salman Khan announced Shilpa to be safe from eviction. According to sources, Sapna Choudhary has to leave the Bigg Boss house this week