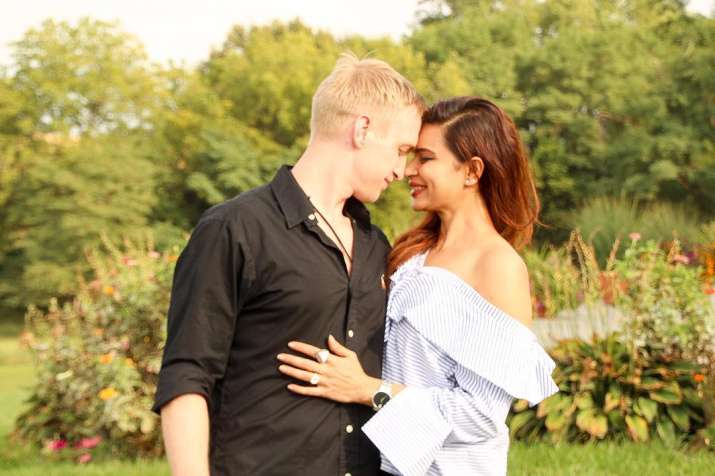 Popular TV actress Aashka Goradia is all set to become Mrs. Goble on December 3. The actress is finally taking her wedding vows with long time beau Brent Goble in a big fat Indian wedding. Entire wedding plan is nowhere close to what you've imagined. They chose the most off-track route to showcase their love. Defying the ordinariness, the duo has shot for a music video 'Woh Chilman Se', which represents a relationship in its raw form. The video is nothing like a typical rosy Bollywood song, but it is as real as it gets.
Talking about the music video with Indian Express, she said, "When Ashoke Pandit (producer of the video) came to us with the idea and we heard the song, both Brent and I just looked at each other with excitement in our eyes and a huge smile. We knew we wanted to do it that very moment. Yes, it may not be exactly our story, but it's such a soulful song, and we could completely relate to it."
Aashka further added, "Popular singer Tauseef Akhtar ji has displayed the emotions of every loving couple through his voice. A relationship needs efforts to survive, and partners, who won't give up on each other. This is exactly what the song is all about! It is not only about enjoying the joyous moments but also about holding each other's hands during the downhill."
Talking about why she chose this song for her pre-wedding music video, she said, "For us this song conveyed every bit of our understanding of what we want our marriage to be like – one in which we stand by each other through all times and constantly work towards building a strong relationship!"  
Earlier, Aashka dated Rohit Bakshi for a decade. After she broke up with him, she found love in Brent Goble. She met Brent at an event in the US and two got along pretty well with each other. He is a weapon's instructor and range safety office in Las Vegas by profession. Aashka has always been vocal about her relationship status. Her Instagram is full of pictures with his love Brent Goble. She also took part in Nach Baliye Season 8 with her American boyfriend.
Check out her Instagram pictures