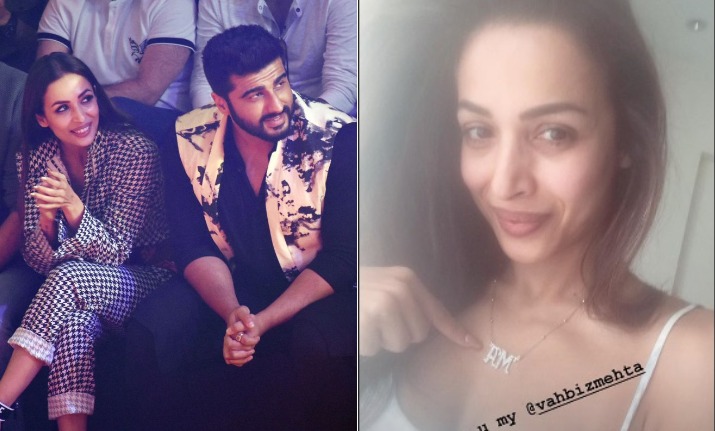 Malaika Arora and Arjun Kapoor are no longer trying to hide their relationship from the public's eye. After Arjun Kapoor accepted his relationship status in Koffee With Karan 6, Malaika Arora may have come out clean about her relationship with Arjun Kapoor. Last night, Arjun Kapoor was spotted at Amrita Arora's house where Malaika Arora, Kareena Kapoor Khan with Taimur were already stationed. The inner circle must have partied together. Later, Malaika shared a picture of a necklace gifted to her by her friend Vahbiz Mehta. The necklace had a pendant bearing the initials 'AM', which clearly means Arjun-Malaika. Or could it mean Amrita-Malaika, since she is very close to her sister.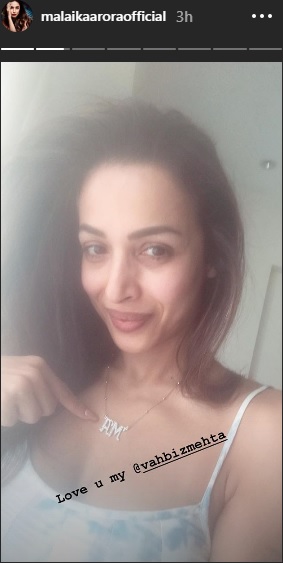 The dating rumours of Malaika Arora and Arjun Kapoor started doing rounds on the internet ever since they were spotted sitting together at Lakme Fashion Week. Soon after, they were spotted number of times on dinner dates and casual outings. In fact, Arjun flew with Malaika to France to celebrate her 45th birthday.
Now to add more fuel to the fire, we have a picture of Malaika Arora flaunting her 'AM' necklace to the world. It is yet unsure if A means Arjun, Amrita or Arhaan. Only Malaika can tell us what the pendant actually means.
There were rumours that Arjun Kapoor and Malaika Arora might get married the next year. Shunning those rumours, the actress said, "I never answer personal questions. Not that I shy away from answering or whatever. I just don't feel comfortable talking about my personal life. And whatever my life has been, everyone is aware of it. I don't need to be talking about it. I am just enjoying my life - it's beautiful and precious".
Malaika and Arjun are spotted partying together with Arjun's family including Sanjay Kapoor and Maheep Kapoor. These frequent family gatherings suggest that Arjun's uncle Sanjay has certainly approved of their relationship.