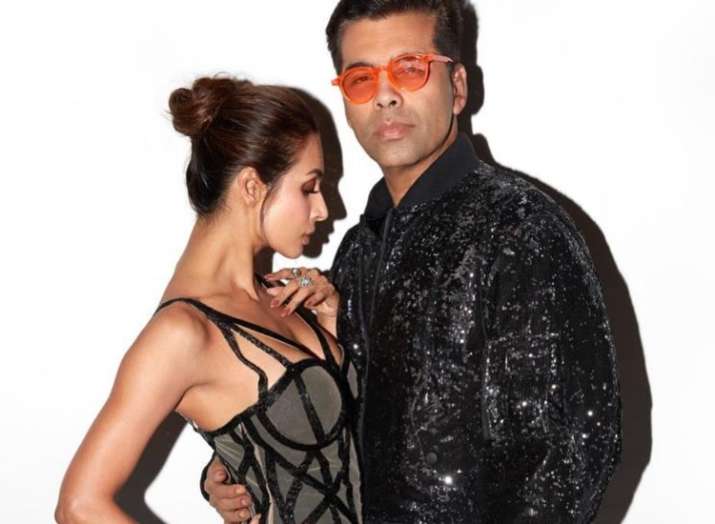 Bollywood filmmaker Karan Johar is back with his 'Toodles Series' from the sets the talent-based reality show India's Got Talent. The filmmaker judges the show with two beauties on each side, Malaika Arora and Kirron Kher. Keeping up with the trend of his toodles videos, this time Karan Johar went a step ahead and called co-judge Malaika as the 'tacky version of Beyonce'. For the uninitiated, the toodles video is behind the scenes shot video by Karan Johar himself while talking to his co-judges in the most hilarious way. Mostly in the videos, Karan is always seen teasing Kirron Kher for her old-school fashion sense and their banter is worth listening. 
In the latest video shared by the filmmaker, Karan starts showing off Malaika's backless outfit and then quickly says, "you look like a 2.0 tacky version of Beyonce." The actress was evidently annoyed by the statement and asks him to leave. In one of the previous videos, Malaika compared herself to Beyonce and now Karan Johar has taken the joke forward. Watch the video here-
In the last Toodles video, Karan decided to ask Malaika about the Koffee With Karan episode featuring Malaika's rumoured boyfriend Arjun Kapoor and his sister Janhvi Kapoor. In the wittiest manner, Karan is seen asking her, "So how was the 'Koffee' last night?" To which she said, "It was hot, it was honest and I loved every bit of it." Check out the video here-
Karan Johar is known for his sense of humour and how he binds the audience with every word he speaks. But that was not the case always. Recently, Karan Johar revealed that he was 15-year-old when he went to the speech therapist as he was in that "awkward age" and his voice was "squeaky". "Everybody would say, 'You sound like a girl.' I heard that like a million times and I told the therapist, 'Can you make me sound like a boy?' It was not fun. I did it for three years. This gentleman gave me voice exercises. It was embarrassing and torturous. I used to tell my father that I was going to a tuition class because I did not want to say I was going to 'become a man.' I should not have been put through that. If I was sounding a certain way, it should have been okay," he added.
More Bollywood stories and picture galleries
For all latest news and updates, stay tuned to our Facebook page