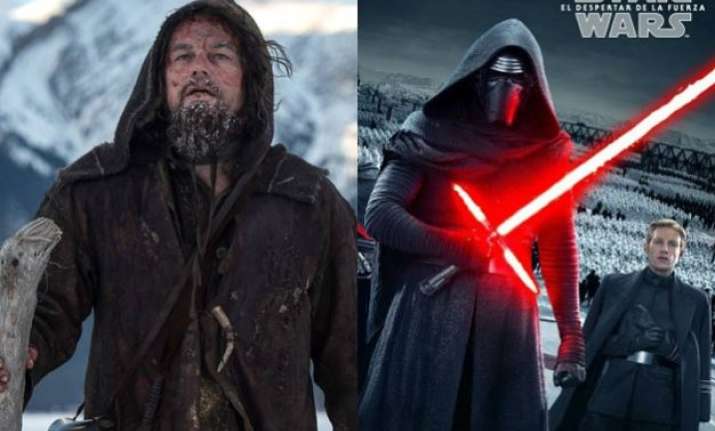 New Delhi: Hollywood actor Leonardo DiCaprio's 'The Revenant' has become the highest grosser in U.S. box office in the weekend of January 22. As on Sunday, the movie had raked in $16 million (approximately Rs 108 crore) at 3,711 locations. The movie had released on December 25 last year.
The survival adventure has thus earned $119 million in US alone defeating the total earnings of Leo's super-hit movie 'The Wolf of Wall Street'. It is an achievement for this movie which did not open to mind-blowing collections in the first weekend of wide release.
It should be noted that many parts of the United States have been brought to a standstill after Storm Jonas shut down theatres in New York City, Washington D.C., Baltimore and Philadelphia. Filmmakers feel that this storm had a major impact on the earnings for the movie. The storm reportedly cut the nation's moviegoers by as much as 12 per cent with as many as 400 locations being impacted.
Fittingly, 'The Revenant' took the piece of cake during the mighty storm. 'Star Wars: The Force Awakens' which was nestled in the first position last week, slipped to second with an overall collection over the weekend of $14.3 million (approximately Rs 97 crore).
"With the weather, it was just not in the cards for the new releases to perform well this weekend — although they may see some decent actual numbers for Sunday if theatres in the storm area are open," Paul Dergarabedian, senior media analyst said.
"It turns out that 'The Revenant' had a perfect release date," he added.
Set in the brutal winter of 1823, the Alejandro Gonzalez Inarritu epic "The Revenant" took over a dozen nominations at the Academy Awards on January 14. The star of the movie Leonardo has also been nominated for the Best Actor award, his fourth nomination till date.