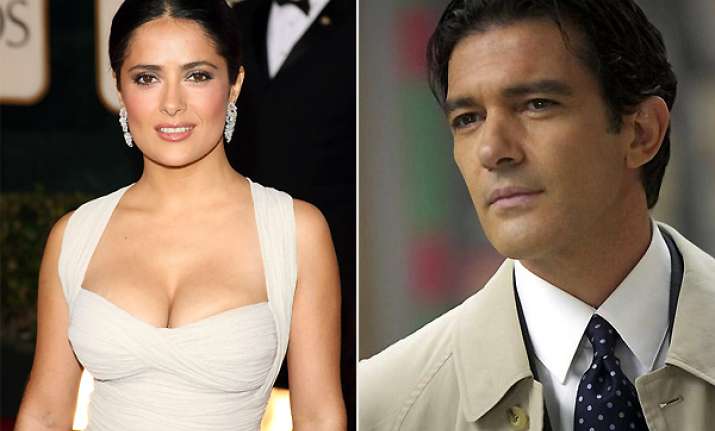 Los Angeles, Oct 24: "Puss In Boots" is only the latest pairing for two of the biggest stars of Latin cinema.

Salma Hayek and Antonio Banderas play flirty, competitive, thieving cats in the new animated film. Banderas' character was spun off from the hugely successful "Shrek"franchise and Hayek's feline is a newcomer, Kitty Softpaws.

The careers of both were launched with Robert Rodriguez's acclaimed action indie, "Desperado," in 1995, and they joined again in "Four Rooms" and the quasi-"Desperado" sequel "Once Upon A Time In Mexico."

"And because of that we've worked so many times together. But also because of that we've been part of a family of Latin talent that started together. And we've done well together. It's a wonderful thing," said Hayek "Then later on when I did my movie 'Frida,' which was a big deal for me, I really needed his help and he was so gracious and I am forever grateful for this because he helped me and he did the part of (artist Jose) Siqueiros brilliantly in the film. And now I'm just so lucky that he created this extraordinary character, bigger than life that now has his own movie, and I was invited to play in it."

Though the two actors have remained friendly, they don't get together outside of work too often, Banderas said.

"It's kind of difficult that we can get together. Because she lives in Paris now. And I live in Los Angeles. Sometimes we just are working outside of our own towns," he said.

"And also it helps that I really love his wife. Actually through the years, I have kept in touch with Antonio, but I see Melanie (Griffith) a lot more. Because he's always working. But we definitely have kept the friendship going throughout all this time," Hayek said.

The two say they don't want to overthink their on-screen chemistry, which is on display once again in "Puss In Boots."

"I think the worst enemy for any actor is just to be self-conscious," Banderas said. "That can apply also to a couple. If there is something that works, it's better that you don't intellectualize it. You just let it go and don't touch it too much. If it's working, just let it go."

"We can't even take credit for it. It's not something that we do. It was just always there from the beginning," Hayek said.

Banderas said he remains humbled and surprised by the love shown for his Puss In Boots character -- a "lion trapped in the body of a little cat," as he describes him.

"I didn't expect to do anything like this in America. I got to this country without speaking the language. They called me for the use of my voice, it was a big surprise, and a bigger surprise that actually the character totally hooked in the heart of everybody all around the world," he said.

"Puss In Boots" also features the voices of Billy Bob Thornton, Amy Sedaris and Zach Galifianakis. Directed by Chris Miller, it is set for release in North America on 28 October. It will be released in India on December 2.