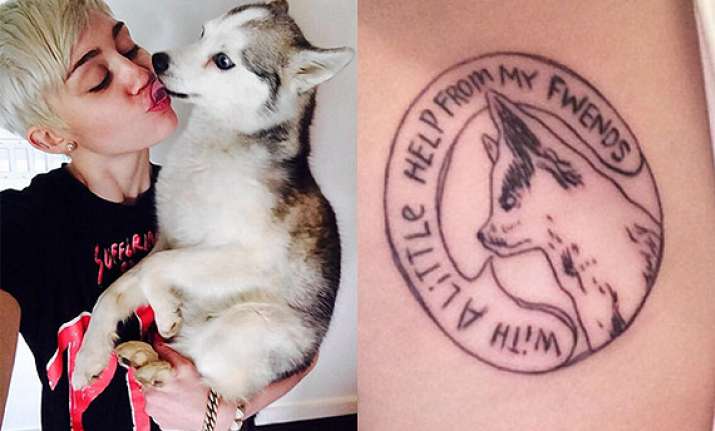 Los Angeles: Pop star Miley Cyrus paid tribute to her late dog Floyd by dedicating a tattoo to him.
The 21-year-old singer posed with two other friends in several pics that showed off the tattoo of a badge with a drawing of the late Alaskan Klee Kai's face on it, reports contactmusic.com. 
She posted a pic of herself with two friends sporting the tattoo just under their arms, July 6. 
"#housepartygreentonguefloydtats @waynecoyne5 @katyweaver #withalittlehelpfrommyfwends," the caption read. 
This comes just a week after Cyrus introduced her new puppy, Emu, to her 10 million fans on photo-sharing site Instagram by posting an adorable photo of herself cuddling up to the furry canine. 
"Time to start making Emu accounts smilers. He's here and here to stay. I welcomed Emu Coyne Cyrus into the family a couple days ago. Been keepin him a secret cause sometimes I'm weird like that. It's taken some time to be ready for this next step and loving again," she said. 
"There will never be anyone like Floyd. There was a bond that was so deep it's irreplaceable but that's not what I am trying to do. Never will I replace Floyd and that's something I had to take time to understand," she added.