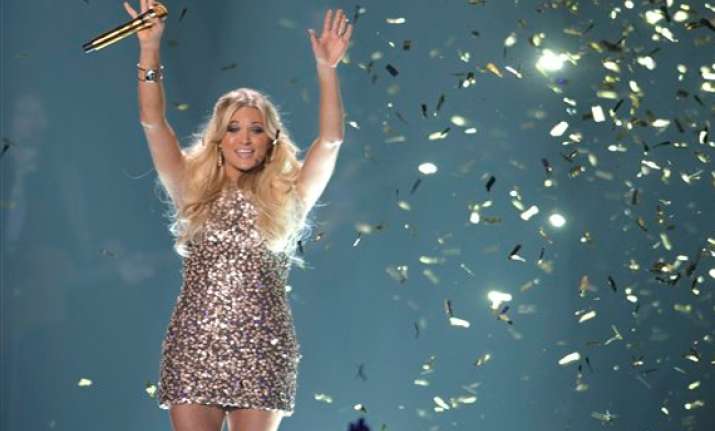 London:
Carrie Underwood is bringing country music across the pond.
The multi-platinum selling American artist was in the U.K. recently to promote her latest album, "Blown Away."
Although it marks her first actual British release, the singer's show at London's Royal Albert Hall on Thursday 21 June was sold out.
Many have described Underwood as a country music crossover star - which may explain her broad appeal - but the singer says she's country through and through, although she does have other influences.
"I consider my music to be country at its core, but I'm like everybody else, you know, my ipod is filled with kind of the most random things and that is the amazing thing right now about music and sharing and the internet.
People can get to more kinds of music easier and I'm kind of a product of that, I guess.
So, I love country music that's what I grew up loving and listening to but I definitely want to make it approachable and accessible to people who don't necessarily listen to country music," she explains.
Underwood shot to fame in 2005 after winning the reality singing show "American Idol."
Since then she's received countless awards and sold millions of albums.
Despite her success, the 29-year old Oklahoma born star is still down to earth. She even drove nine and a half hours to go to her highschool reunion.
"There's some people I literally have not seen since the day we graduated and I was curious, you know, how people turned out, what they are doing, who they married, how many kids they have and it was really good. I had a really good time," she says.
Her appearance at the reunion delighted her classmates, although some weren't too impressed.
"I took a few pictures and signed a couple of things but I think - mainly from the guys - they were asking me where my husband was because they were more interested in seeing him," says the star, who is married to Ice Hockey player Mike Fisher.
Although seven years have passed since her "American Idol" glory, Underwood admits she still watches the show:
"'American Idol' was my way in and out of all the singing reality shows out there that is definitely the one I keep up with."
So, if the singer had her time again, which show would she audition for now - "American Idol," "The X Factor," or "The Voice"?:
"Obviously I have very strong ties to it, but I think I would stick to what got me here. I'd try out for that one again if I could," she says.