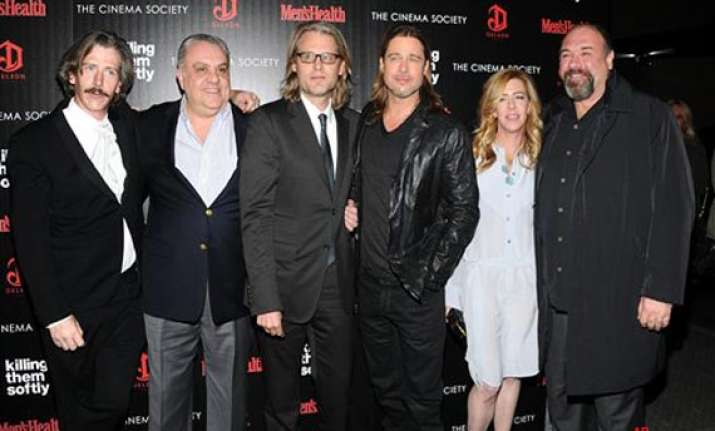 New York, Nov 28 : "Killing Them Softly" star and producer Brad Pitt may love being behind the camera, but the Oscar nominee will leave the directing to his fiancee Angelina Jolie.
"I like her doing it. She's good at it and she's fulfilled with it," said Pitt. "I just I would rather put that energy into other things. There's a lot, it's very time consuming."
Pitt premiered his mafia drama "Killing Them Softly" in New York on Wednesday  alongside co-stars James Gandolfini and Ray Liotta.
The actor, who has produced over 20 films, including "Moneyball" (2011), "The Tree of Life" (2010) and "Eat Pray Love" (2010) with his production company Plan B Entertainment, said he hopes to continue his work behind the scenes.
"I really enjoy it. When a film makes it to the screen you just take it for granted that that's the film that year. But it took a lot of people to push it, pull it together, push the idea, develop the story, and it's a great creative process. I really enjoy it and you get to back filmmakers that you believe in and most importantly get stories to the screen that may not have made it otherwise and that I like," he said.
In "Killing" Pitt plays hitman Jackie Cogan who is called in to dole out justice after a heist at a mob-protected poker game.
The megastar and tabloid regular admitted he rarely reads his own headlines or film reviews.
"I don't like to look at it because it used to cloud my judgment and I trust my own judgment and I know when I can do something and I like to keep it at that. And my work's better because if it. I'm happier because of it."
And it seems the entire Jolie-Pitt clan has been bitten by the acting bug - with Vivienne, Zahara and Pax, set to appear in Jolie's upcoming "Maleficent." But Pitt says they're not too serious about the craft just yet.
"No, it's not that big a deal for them," he explained. "They're just hanging out in mom's office. That's all."
Pitt also had this to say about his dramatic Chanel commercial which spawned a great deal of criticism along with spoofs by Conan O'Brien and "Saturday Night Live."
"No, I haven't (seen the spoofs), but fair play. Fair on them," he said with a laugh.
Scoot McNairy and Ben Mendelsohn also star in "Killing Them Softly," directed by Andrew Dominik.
It opens in U.S. theaters Nov. 30.