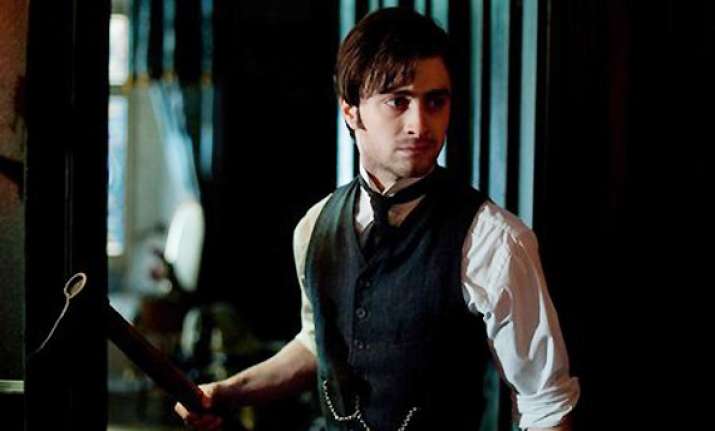 London, Jan 25: It might be one of the most well-known ghost stories of the last three decades, but at the London premiere of "The Woman in Black" on Tuesday. Daniel Radcliffe claimed there was nothing scary about stepping into the role.

"It felt like quite an easy decision to be honest, when I got their script," Radcliffe stated.

"I was thinking, 'well, I would be lucky, I'll be ecstatic if I get to be involved with this,' so it was a very easy decision to do this film."

Susan Hill's classic novel, published in 1982, has already been turned into a TV movie, a radio series and a play.

It tells the tale of a lawyer named Arthur Kipps (played by Radcliffe) who leaves his young son behind and travels to a remote village to deal with the affairs of the recently deceased owner of Eel Marsh House.

Working alone, he begins to unearth secrets about the area, and discovers that local children have been disappearing in unexplained circumstances.

The supernatural events were however confined to the big screen. "We had a very relaxed, nice time on set, with no spooky moments or ghostly sightings," laughed Radcliffe.

Radcliffe's co-star, Ciaran Hinds (who also made an appearance with him in "Harry Potter and the Deathly Hallows: Part 2") had an unusual take on the chilling subject matter. "It's sort of based on the human condition," Hinds began.

"We've all got paranoia, we all carry grief, we all carry a dark side and it's not about like spooky little aliens coming at us, it's about our own paranoia, our own ghosts, our own bits of burden that then psychologically slightly deranges. In the end, the story's about the unease of spirits who haven't been allowed to rest, really, you know, which is sort of a very scary proposition."

Both actors were keen to pay respect to fellow British thespian, Gary Oldman, who earned a best actor nod for his role in "Tinker Tailor Soldier Spy" at the Oscars earlier that day.

"I'm absolutely thrilled for him," gushed Hinds.

"People who work in the theatre or acting, even people who watch him have always remarked and known what a wonderful, wonderful talent he has, what a gift. And you know, it's taken him on many journeys, many different ways, but half the reason people heard I think around that Gary Oldman was gonna play (George) Smiley, everyone just put their hand up and said 'can we play for a bit?' just to be around something you knew would have a gravitas, and a dignity. He goes into a different world, it was wonderful to watch and I'm thrilled he's been nominated," he concluded.