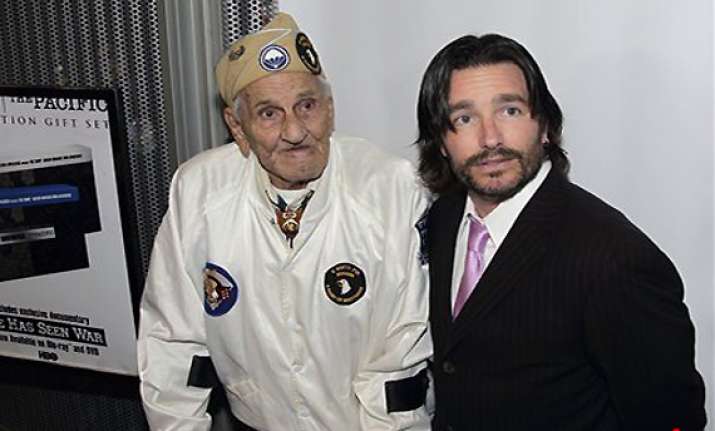 Los Angeles, Nov 24: It's Thanksgiving this week in America, a time to reflect on the people and things for which we're grateful. Since I love movies, I thought it would be a good time to choose five for which I'm thankful. These are the cinematic equivalent of comfort food, ones I can watch over and over again, and always rely on to make me laugh, lift me up or provide an escape. (The inclusion of anything by John Hughes goes without saying.)

Ask me tomorrow and this list might be different. But for today, dig in:

•"Rushmore" (1998): This was only Wes Anderson's second movie, but it remains his best—funny, lively, clever and tinged with a sweet sense of melancholy. All of Anderson's trademark stylistic touches are there, the ones that would seem increasingly precious and self-conscious with each subsequent film he made. Young Jason Schwartzman, making his film debut, stars as Max Fischer, who's involved in every club, sport and activity at the exclusive Rushmore Academy. A restrained Bill Murray is hilarious as the depressed father of a couple of Max's classmates, with whom Max forms an unlikely friendship—until the two compete for the affections of the first-grade teacher, played by the lovely Olivia Williams. Anderson finds delicate humor in his characters' loneliness, which gives "Rushmore" greater emotional heft than its quirks might lead you to expect.

•"The Sound of Music" (1965): OK, so I'm just going to put it out there: I played Gretl in our little neighborhood production of this musical when I was 5, and it's always held a special place in my heart. Yes, it's a huge movie and a classic, winner of five Academy Awards including best picture. But there's something so personal about it; we all grew up watching it—it's one of those movies that was on television every year around the holidays. I recall repeatedly listening to the album—the album, people, that's how long ago this was—and singing along with every song. Why shouldn't Julie Andrews be able to come up with just the perfect, inspiring tune on the spot, or make play clothes out of drapes for all seven Von Trapp children, and still find time to make goo-goo eyes at the captain? It's corny and gooey and irresistible.

•"This Is Spinal Tap" (1984): Pretty much the greatest mockumentary ever, the one that launched Christopher Guest's entire oeuvre. Others, such as "Waiting for Guffman," have their classic moments, but this one sets the standard. So many great, quotable lines. So many ridiculous songs in this fake behind-the-scenes look at a spectacularly awful and over-the-top British rock band. So many small, deadpan ad-libs that produce huge laughs. Rob Reiner (as director and co-star) nails a particular brand of big-haired musical self-seriousness that was prevalent in this era. Guest, Michael McKean and Harry Shearer, all masters of improvisation, bounce beautifully off each other. This is a truly reliable comedy, one that captures a specific moment yet remains a classic. You know the tiny Stonehenge is coming and it's still funny every time.

•"The Big Lebowski" (1998): Admittedly, this is not the Coen brothers' best film—that would be "No Country for Old Men," their masterpiece. And I could watch that over and over again, too. But the cult of Lebowski is just too powerful. There's something hypnotic about it: the way The Dude navigates the increasingly surreal adventure in which he's found himself; the cadence of the banter; the repetition of certain key phrases (most of which can't be repeated here, sadly). Bowling, Vietnam, white Russians, porn, a toe with green nail polish on it and a crucial rug that really tied the room together all collide in weird and wonderful ways in this absurd case of mistaken identity. No matter what Jeff Bridges accomplishes in his lengthy and varied career and despite the Oscar he recently won for "Crazy Heart," he will always be The Dude. And John Goodman is completely great as his volatile, self-serious sidekick, Walter.

•"Sleeping Beauty" (1959): This was my favorite Disney animated film growing up, an uncharacteristically chickish choice on my part, given its themes of a woman in peril who needs a man to rescue her—the man she's been arranged to marry, of all people. So no, it's not terribly forward-thinking. But when I was a little girl, it all seemed so romantic. Aurora was so gorgeous and graceful, tall and blond, my epitome of feminine beauty back then. Much of the film's allure comes from the music—the sweeping score adapted from Tchaikovsky's ballet. The movie itself is just so beautiful, too, nearly a decade in the making with its hand-inked animation. And Maleficent is just such a great name for an evil witch. "Sleeping Beauty" was one of the movies I watched when I was home on maternity leave, waiting anxiously for my son to arrive. It was a good distraction.