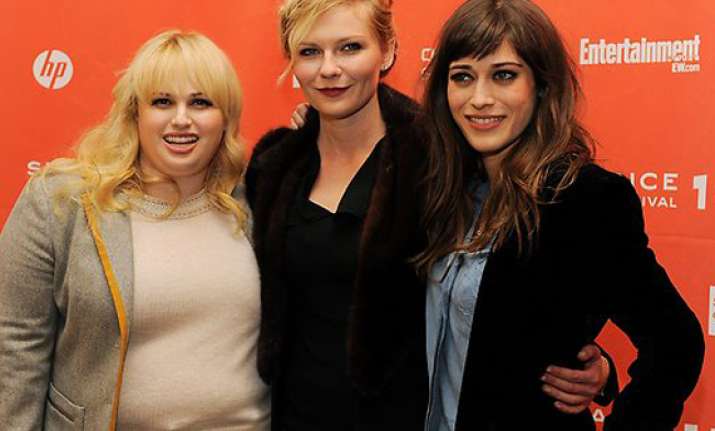 Park City (Utah), Feb 2: It was hatred at first sight for the stars of the indie film "Bachelorette," including Rebel Wilson, Kirsten Dunst and Lizzy Caplan.

"I basically hated them when I first met them," Wilson joked in an interview.

"It wasn't like anything happened, really. It was just like sometimes you get along with people and sometimes it's just like oh I have to work with these people," Caplan said.

Dunst adds: "I mean I didn't even work with them. All of my scenes were shot separately."

Like "Bridesmaids," the film follows a group of friends gathering for one character's wedding—and the trouble that ensues.

"Bachelorette" is darker, though than that summertime hit. But it does have "Bridesmaids" to thank—financiers only agreed to fund the small film after the Kristen Wiig movie succeeded at the box office.

"I mean, the script has been around for a while, and also it was a play. But yeah, thank you to them for making that movie. Because our movie probably was financed because of them," Dunst said.

"It's like they really did just figure out—the people who give money to make the movies—they really did figure out that girls can be funny. Which is good for us, I think," Caplan said.

The film was directed and written by Leslye Headland—who had the script ready at least two years before "Bridesmaids" but was unable to get it made. It's based on Headland's own play—one in a series of plays about the seven deadly sins. The sin in this one: Gluttony.

"We're friends coming together for her wedding and things go crazy. It's kind of like a female 'Swingers' vibe I would say," Dunst said.

"Or like 'Bring It On' but with no cheerleading," Wilson joked.

"Bachelorette" is still searching for a distributor.