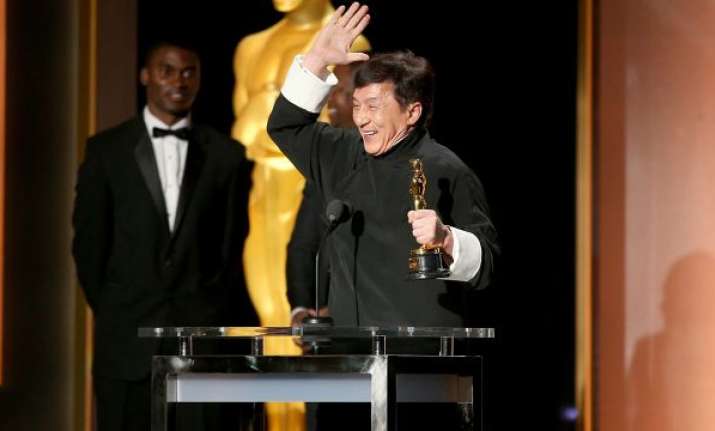 With more than 200 films under his belt spanning a 56-year career, the martial arts star Jackie Chan has finally been awarded an honorary Oscar.
The 62-year-old  star was awarded an honorary Oscar at the Eighth Annual Governors Awards at the Hollywood and Highland Center in Los Angeles on Saturday night.
Tom Hanks, Michelle Yeoh and Chris Tucker presented Chan with the award.
Hanks compared Chan to the likes of John Wayne and Buster Keaton.
Chan accepted his award, calling it a "dream" and shared his memories growing up and watching the Oscars with his parents.
Minutes after legendary actor Jackie Chan won the award, Bollywood actor Sonu Sood  congratulated him on twitter.
Sonu on Sunday night shared a post, which read that Chan was feted with the award at the eigth annual Governors Awards on Saturday. The post also read that he is the first Chinese to have received the award, which is given in recognition of "extraordinary achievements" in the film industry.
"The starting point of all achievement is desire! There you are! Heartiest Congratulations. Jackie Chan," Sonu captioned the image.
The starting point of all achievement is desire!! There you are!! 😍Heartiest Congratulations @EyeOfJackieChan 😇 pic.twitter.com/zYNoDSZAIT

— sonu sood (@SonuSood) November 13, 2016
Sonu will soon be seen sharing screen space with Chan in the upcoming Sino-Chinese film "Kung Fu Yoga".
The 62-year-old star said he was 'honoured and lost for words' on finally receiving the award.
So honored and happy and lost for words! https://t.co/5EygQcjM35

— Jackie Chan (@EyeOfJackieChan) November 13, 2016
Messages of congratulations poured in for the much-loved Chinese star on social media, from his contemporaries and his fans.
What a great way to end the night! Congratulations to @EyeOfJackieChan and all the #GovAwards honorees! Look for videos online soon. pic.twitter.com/0YUg4DqEqv

— The Academy (@TheAcademy) November 13, 2016
Congrats to my friend Jackie Chan on his fantastic honor - after 200 movies, you certainly deserve this Oscar. You always inspire. pic.twitter.com/6GTOpC3I70

— Arnold (@Schwarzenegger) November 13, 2016
Congrats Jackie Chan. Well deserved in an over-looked genre. You have always made the most fun, enjoyable, &entertaining movies if any actor

— Ed (@007BearDownJedi) November 13, 2016
Jackie Chan won an honorary Oscar tonight and that makes me very happy. pic.twitter.com/uHVYpiZYUc

— 🧛🏽‍♀️The NYTimes Best-HELLing Authorror (@Lin_Manuel) November 13, 2016