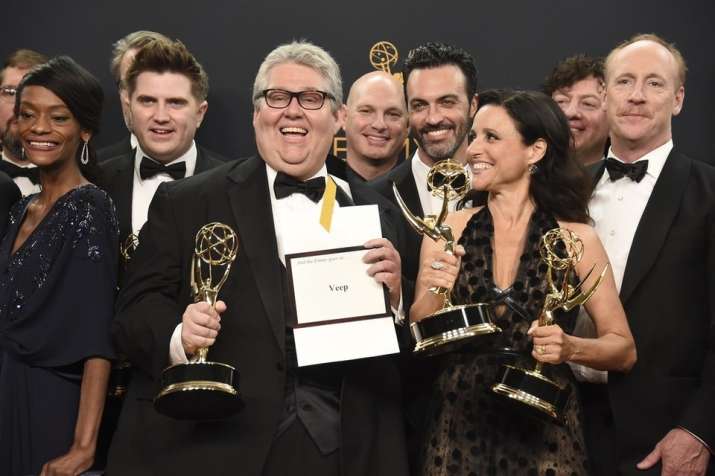 The 68th Annual Emmy Awards, which were held in LA, turned out to be a huge night for 'Game of Thrones' and 'The People v. O.J. Simpson'.
GoT, which took home three trophies, created a history at the Emmy Awards. The show, which has now won a total of 38 awards, has become the highest number of Emmy Awards ever won by any fictional series. The award was previously held by 'Frasier' which had won 37 awards.
Interestingly, 'Game Of Thrones' had also lead the creative Emmy Awards, held last week, in which the show had won nine technical awards.
On the other hand, the American crime story 'The People v. O.J. Simpson', also managed to bag five awards including the best limited series, best actor and actress for the same in the category.
The best surprises of the event turned to be for the categories of best actor and actress, which were won by Rami Malek for his drama-thriller TV series 'Mr. Robot' and Tatiana Maslany for 'Orphan Black' respectively. Interestingly, this was the first Emmy award for both Rami and Tatiana.
Besides GoT, The Emmy Awards 2016, which was hosted by Jimmy Kimmel, was quite a productive event for HBO as Veep and Last Week Tonight With John Oliver also managed to bag the awards in 'best comedy series' and 'best variety talk series' respectively.
Apart from all the winners at the event, what else caught up the attention was Matt Damon's surprise appearance on the stage after host Jimmy lost the award of 'best variety talk series' to John Oliver. Jimmy was nominated under the category for his show 'Jimmy Kimmel Live' but soon after the award went to Oliver, Matt came up trolling the host for his loss, which added on to the humour quotient at the award ceremony.
Here's the complete list of winners of the 68th Annual Emmy Awards:
Best Drama Series – Game of Thrones (HBO)
Best Comedy Series – Veep (HBO)
Best Actor In A Drama Series – Rami Malek for Mr. Robot
Best Actress In A Drama Series – Tatiana Maslany for Orphan Black
Best Actor In A Comedy Series – Jeffrey Tambor for Transparent
Best Actress In A Comedy Series – Julia Louis-Dreyfus for Veep
Best Supporting Actor In A Drama Series – Ben Mendelsohn for Bloodline
Best Supporting Actress In A Drama Series - Maggie Smith for Downton Abbey
Best Supporting Actor In A Comedy Series - Louie Anderson for Baskets
Best Supporting Actress In A Comedy Series – Kate McKinnon for Saturday Night Live
Best Writing For A Drama Series – Game Of Thrones, "Battle OF The Bastards" (HBO), Written by David Benioff, D.B. Weiss
Directing For A Drama Series - Game of Thrones, "Battle of the Bastards" (HBO), Directed by Miguel Sapochnik
Best Writing for a Comedy Series – Master of None, "Parents" (Netflix), Written Aziz Ansari, Alan Yang
Best Directing For A Comedy Series – Transparent, "Man On The Land" (Amazon), Directed by Jill Soloway
Best Limited Series – The People v. O.J. Simpson (FX)
Best Television Movie – Sherlock: The Abominable Bride (PBS)
Best Actor in a Limited Series or a Television Movie – Courtney B. Vance for The People v. O.J. Simpson
Best Actress in a Limited Series or a Television Movie – Sarah Paulson for The People v. O.J. Simpson
Best Supporting Actor in a Limited Series or a Television Movie – Sterling K. Brown for The People v. O.J. Simpson
Best Supporting Actress in a Limited Series or a Television Movie – Regina King for American Crime
Best Writing For A Limited Series, Movie Of Dramatic Special – The People v. O.J. Simpson, "Marcia, Marcia, Marcia" (FX), Written by D.V. DeVincentis
Directing For A Limited Series, Movie Or Dramatic Special – The Night Manager(AMC), Directed by Susanne Bier
Best Variety Sketch Series – Key & Peele (Comedy Central)
Best Variety Talk Series – Last Week Tonight With John Oliver (HBO)
Best Directing For A Variety Special – Grease:Live (FOX) Directed by Thomas Kail, Live television directed by Alex Rudzinski
Best Writing For A Variety Special – Patton Oswalt: Talking For Clapping (Netflix), Written by Patton Oswalt
Best Reality-Competition Program – The Voice (NBC)