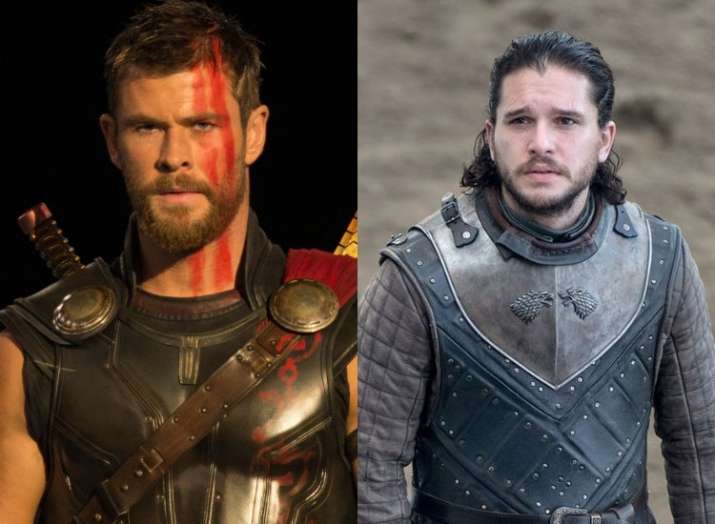 Fans have been waiting for the two epic dramas, Game of Thrones season 8 and Avengers Endgame, for a long time. As the release date of the two is reaching, the audience has been speculating what will happen in these two universes. Recently, Chris Hemsworth, who plays Thor in Avengers and Kit Harington who plays Jon Snow in Game of Thrones appeared together on BBC's celebrity talk show hosted by Graham Norton and offered to tell each other the ending of their respective movie and TV show.
Kit Harrington has been part of the show from the very beginning and will be seen in the last season as well. Talking about the season finale, the actor revealed that he is living with the responsibility of holding the big secret of the show's epic finale. He said there is one person, one of his friends, who knows the ending. As Harington was talking, Hemsworth said he wishes to know the ending of the show and offered Harington Avengers: Endgame spoilers in return. He also admitted he is "obsessed" with Game of Thrones.
 "Can we swap endings? I am obsessed with your show," Hemsworth said. To which Kit replied saying, "If you tell me yours, I will tell you mine."
Avengers: Endgame, which is the fourth and final part of popular Avengers franchise is scheduled to release on April 26. It stars Chris Evans, Brie Larson, Robert Downey Jr., Don Cheadle, Mark Ruffalo, Chris Hemsworth, Gwyneth Paltrow, Scarlett Johannson and others in the lead role. In the last film Avengers: Infinity War, many superheroes including Winter Soldier, Scarlet Witch, Black Panther, Star Lord, Gamora and others have been decimated by the super-villain Thanos. 
On the other hand, Game of Thrones season 8 premieres in India on April 15. Earlier, Kit Harington revealed that he believes the ending of "Game of Thrones" will "divide opinion" because it is impossible to please everyone in the audience. Harington told Emmy magazine, "I think it will be strong. But you don't want to mess it up on the very last outing. I haven't watched a single series that has a following like Thrones does where everyone is satisfied with the ending. I don't think that it'll be any different with this. I think it will divide opinion."
More Bollywood stories and picture galleries
For all latest news and updates, stay tuned to our Facebook page