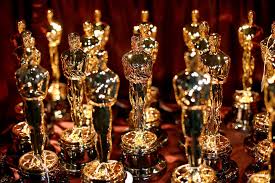 The 2018 Oscars is all set to take place this Sunday, March 4. Things will start off with the red-carpet arrivals starting 3:30pm PT/ 6:30pm ET in the US, with the actual awards ceremony beginning at 5 pm PT/ 8pm ET. The nominated movie stars will show up at Dolby Theatre in Los Angeles hoping to walk away clutching one of those glowing statuettes. In India, the live telecast of the 90th Academy Awards will begin on Monday, March 5 at 5:30 am IST for an hour of the red carpet, followed by the awards ceremony starting at 6:30am IST.
The Oscar Statuette officially dubbed the Academy Award of Merit, have a 24-karat gold plating on their surface. In total, there will be 48 Oscar statuettes given out at this year's ceremony. But only 24 of those statuettes are for competitive award categories.
Each Oscar statuette is 13.5 inches tall, with a base measuring 5.25 inches in diameter, and weighs 8.5 pounds. The statuette design is a stylized figure of a knight holding a crusader's sword and standing on a reel of film with five spokes. The spokes signify the five original branches of the Academy: actors, directors, producers, technicians, and writers.
Late-night talk show host Jimmy Kimmel is back as host, becoming the first person to host back-to-back ceremonies since Billy Crystal in 1997-98. Though there's no blame on his end for Envelopegate, he didn't hold back from being cheeky about it: "If you think we screwed up the ending this year, wait until you see what we have planned for the 90th-anniversary show."