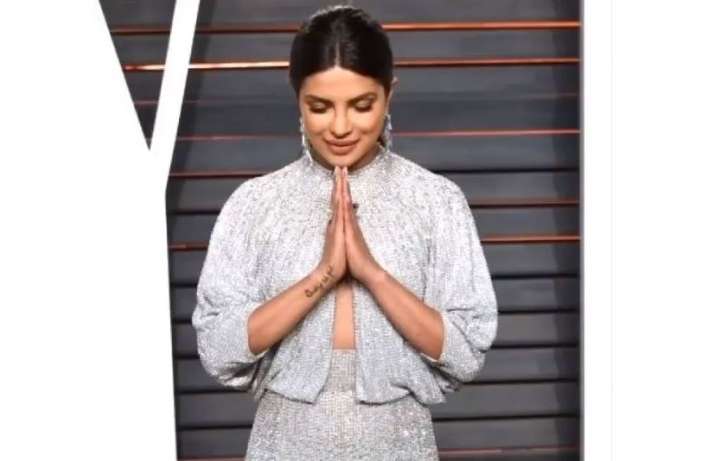 Legendary singer SP Balasubramanyam passed away on Friday after battling the novel coronavirus. Many people including celebrities shared their condolences on social media. Recently, actress Priyanka Chopra also condoled the late singer's death and even shared a post on her Insta.
The actress took to her Instagram handle and shared a picture of SPB in her story along with a note mentioning how his songs were a huge part of her childhood memories. She wrote in the caption, "RIP SP Balasubrahmanyam sir. Your songs are a huge part of my childhood memories. Your voice will always be herd and your legacy will live on forever. My deepest condolences to the family."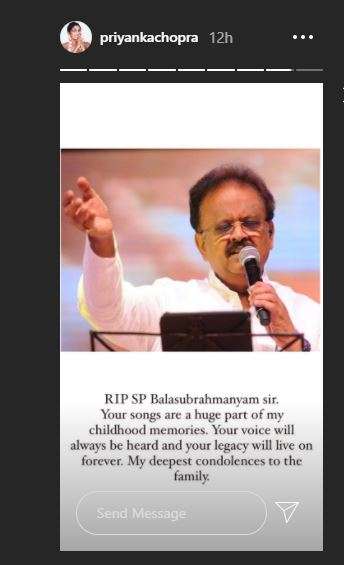 The veteran singer's health deteriorated on Thursday evening. He had been put on maximal life support. The doctors at the hospital had released an official statement mentioning that the health condition of the popular singer worsened on Wednesday, September 23. The statement added that the singer is extremely critical and need close monitoring of his health. On Friday, SPB Charan, SPB's son announced at the gates of the hospital that SP Balasubramanyam passed away at 1:04 pm today and thanked all those who prayed for the singer's recovery.
Celebrities like Akshay Kumar, Mahesh Babu, Hema Malini and others poured in condolences.. Hema Malini tweeted, "End of an era! Versatile musical genius passes away. SP Balasubramaniam succumbs to the terrible covid virus after a prolonged battle in hospital. God give him peace. He will be missed  by all" Akshay Kumar wrote, "Deeply saddened to hear about the demise of Balasubrahmanyam ji.Just a few months back I'd interacted with him during a virtual concert in this lockdown..he seemed hale,hearty & his usual legendary self...life is truly unpredictable. My thoughts & prayers with his family"