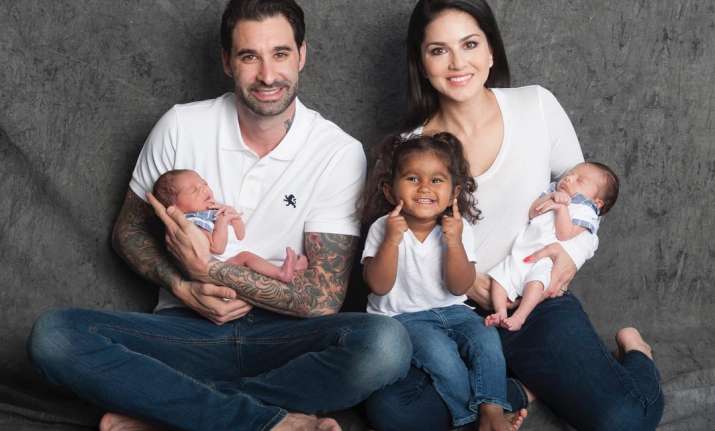 Bollywood actress Sunny Leone, who last featured in Arbaaz Khan-starrer Tera Intezaar is now a proud mum of not one but three children. The beautiful actress broke the news on her social media accounts with an adorable picture of her complete family. Going by her post, it seems like the actress went for surrogacy to extend her family further. In the picture, new parents Sunny Leone and Daniel Weber are posing with their newborns in hands while Nisha Kaur Weber is sitting playfully on her mother's lap.
Sharing the news with her fans, Sunny Leone wrote, "God's Plan!! June 21st, 2017 was the day @dirrty99 and I found out that we might possible be having 3children within a short amount of time. We planned and tried to have a family and after so many years our family is now complete with Asher Singh Weber, Noah Singh Weber and Nisha Kaur Weber. Our boys were born a few weeks ago but were alive in our hearts and eyes for many years. God planned something so special for us and gave us a large family.We are both the proud parents of three beautiful children. Surprise everyone!"
In a statement to IANS, Sunny Leone said, "Just so there is no confusion Asher and Noah are our biological children. We chose surrogacy to complete our family many years ago and it's now finally complete so happy!"
The "Jism 2" actress said in a statement: "We chose to do surrogacy with a fertilised egg from Daniel's genes and my genes. Asher and Noah are our biological children and God sent us an angel surrogate to carry our boys until they were born."
Last year, Sunny Leone adopted her daughter Nisha Kaur Weber in July last year. According to the post, the couple new about the twins' arrival before they went for adoption. While talking about her newfound happiness Nisha, Sunny Leone told India Today, "Nisha is the best gift I could ask for. She is so beautiful and amazing! From being in a foster home to coming home with us, she has been adjusting to her new life, it's so amazing. It is just that God brings people in your life, when it is the right time," she told the daily. She added that every day around Nisha is magical. "I look forward to see her when she wakes up in the morning and be the last person to see her when she goes to bed. I love feeding and playing with her. Last night, she was on top of me and we were rolling like a snake on the floor. I spend so much time on the floor these days. My floor is pristine because she runs around and plays. My life has changed only for the better."
Sunny Leone and her husband Daniel Weber post adorable pictures of their princess Nisha on their social media accounts. Now baby Nisha have two little brothers in her family. Congratulations, Sunny Leone for the latest additions to family.