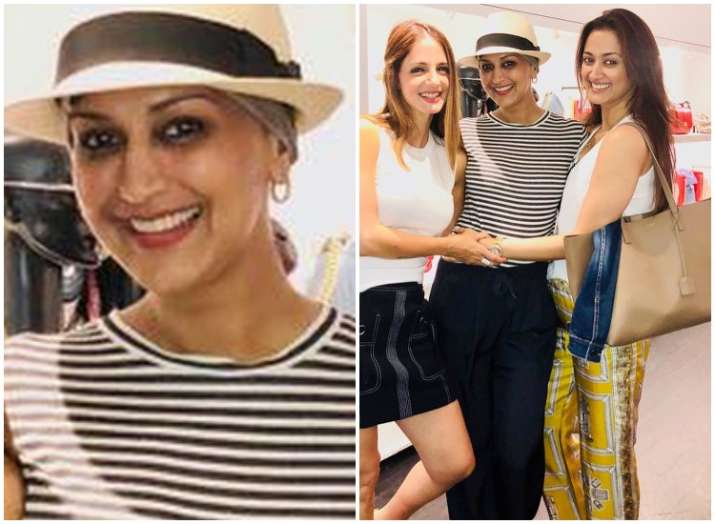 Few days after Anupam Kher's heartfelt post on Sonali Bendre, Sussanne Khan has now shared a picture with good friend Sonali Bendre. The Bollywood actress shared with her fans recently that she has been diagnosed with a high-level cancer. Sonali is undergoing treatment in New York. Sonali keeps sharing her journey with her fans in order to inspire them. She posted recently that messages from her fans from across the globe motivate her. 
Sussanne Khan has posted some snaps of them on her Instagram account with a message that reads that as friends they have each other's back and will overcome all the rough times life has to offer. She says she envisions a bright future for them. We can see Sonali in the snap with a scarf and hat, her smile as radiant as ever.
Sonali's close friends Sussanne Khan, Gayatri Oberoi, Twinkle Khanna, Akshay Kumar and Hrithik Roshan visited her in New York City recently. Sonali had shared photos with her BFFs on her Instagram page.
Recently, Sonali Bendre shared a photograph with her friend Sussanne Khan and Gayatri Oberoi, clicked by actor Hrithik Roshan, the veteran actress looked happy and comfortable in her new look.
"This is me. And in this moment, I am really happy. People give me strange looks when I say that now, but it's true and I'll tell you why. I am now paying attention to every moment, looking for every opportunity to find joy and switch on the sunshine'," Sonali captioned the image.
Meanwhile, Anupam Kher visited the actor in New York. Anupam took to Twitter a while ago and wrote a few heartwarming words for Sonali.
The actor tweeted, "I have done a few films with @iamsonalibendre. We've met socially many times in Mumbai. She always has been bright & a very warm person. But it is only in the last 15 days that I got the opportunity to spend some quality time with her in NY. And I can easily say,"She is my HERO."
I have done few films with @iamsonalibendre. We've met socially many times in Mumbai. She always has been bright & a very warm person. But it is only in the last 15days that I got the opportunity to spend some quality time with her in NY. And I can easily say,"She is my HERO."😍 pic.twitter.com/z6iBe2s7fy

— Anupam Kher (@AnupamPKher) August 12, 2018
Read Also: Sonali Bendre shares heart-melting wish for her 'not-so-little' son Ranveer on his 13th birthday