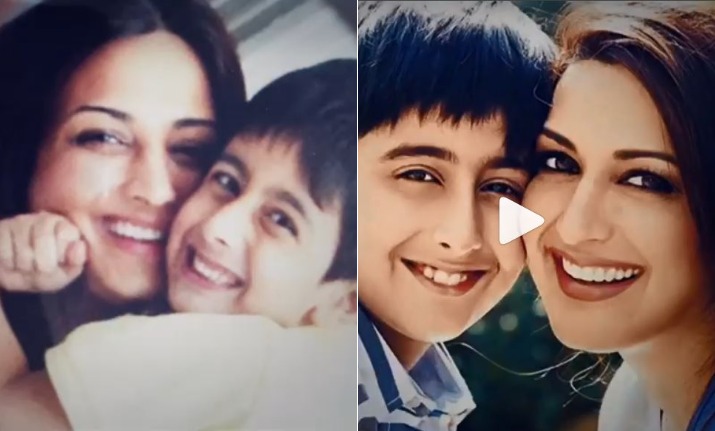 Bollywood actress Sonali Bendre who is battling cancer in New York is nothing but an inspiration for her fans. Ever since she has been diagnosed with high-grade cancer that has metastasised, she is sharing her experience, her fears as well as her strengths through a series of social media posts. Last month, she shared how her son Ranveer is her source of strength during these tough times. Today, on his 13th birthday, the Hum Saath Saath Hain actress shared an emotional post for her not-so-little son who turns 13 today.  
The 43-year-old, who is undergoing treatment for high-grade cancer in New York, took to social media to share a clip with pictures of herself with her son. In the caption, she wrote that she misses him terribly as it is the first time that the actor is away from her son on his birthday.
Some really adorable pictures of the mother-son duo are featured in the short clip. From Ranveer's childhood to teenage, mom Sonali managed to put together an array of photos to wish her 'not-so-little-one.'
"Ranveeeeer! My sun, my moon, my stars, my sky... Okay, maybe I'm being a bit melodramatic, but your 13th birthday deserves this. Wow, you're a teenager now... Will need some time to wrap my head around that fact," Sonali wrote.
"I can't tell you enough how proud I am of you... Your wit, your humour, your strength, your kindness, and even your mischief. Happy happy birthday, my not-so-little one. It's the first one that we're not together... I miss you terribly. Lots and lots of love always and forever.... biiiiig hug!," she added.
Last month, she shared how she and her husband Goldie Behl broke the news of her cancer to their teenage son. She also praised his son for taking things more maturely than they expected from him. 
She wrote, "As much as we wanted to protect him, we knew it was important to tell him the full facts. We've always been open and honest with him and this time it wasn't going to be different. He took the news so maturely… and instantly became a source of strength and positivity for me. In some situations now, he even reverses roles and takes on being the parent, reminding me of things I need to do! "
Sonali, in July, had taken to social media to release a statement, revealing that she had recently been diagnosed with high grade cancer.  
She is currently in New York with her husband and son to get herself treated. As per her close relatives, Sonali is responding well to her treatments.