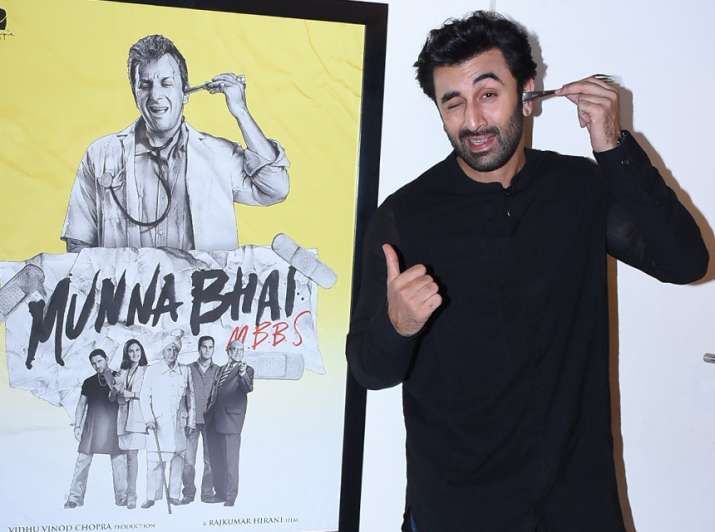 Bollywood lovers can't stop raving about how good Sanju trailer was. Also, the lead actor Ranbir Kapoor is earning adulations both among the audience and from his industry folks. After this explosive sneak peek, fans now want to see Ranbir Kapoor on social media. It's legit, as social media has bridged the gap between the celebrities and fans. With the help of Instagram, Twitter we get the real time updates of our beloved Bollywood celebrities. On Saturday, the social media recluse Ranbir Kapoor announced that he'll be coming on social media on Sunday, that is on June 17 on the occasion of Father's Day.
/drum rolls/

Stop everything! For the first time ever Ranbir Kapoor is on social media! But that's not the real #SanjuSundaySurprise! Stay tuned! #Sanju @rajkumarhirani @VVCFilms #RajkumarHiraniFilms pic.twitter.com/MECY0hObwV

— Fox Star Hindi (@foxstarhindi) June 16, 2018
But hey, don't get your hopes high as you won't be seeing a Ranbir Kapoor Twitter account with a blue tick anytime soon. The Sanju actor will be coming to social media from Fox Star Hindi's official Twitter handle only for ONE day! Yes, you heard it right. We would rather say, Ranbir Kapoor is coming to social media temporarily. He shared a 30-second video of himself through Fox Star's Twitter in which he can be seen thanking his fans for pouring immense love on the entire Sanju team.
Kar Har Maidan Fateh Official Video
Sanju is a biographical film based on the life of Sanjay Dutt and the controversies surrounding him. Ranbir Kapoor is seen charting Dutt's journey in the Rajkumar Hirani film. Apart from Kapoor, Paresh Rawal, Dia Mirza, Anushka Sharma, Sonam Kapoor, Manisha Koirala and Vicky Kaushal are also seen in Sanju. The film is slated to release on June 29.
Apart from Sanju, Ranbir Kapoor will also be seen in Brahmastra opposite girlfriend Alia Bhatt and megastar Amitabh Bachchan. Directed by Ayan Mukerji, Brahmastra will release in 2019.
Sanju Official Trailer
For complete coverage of Sanju, click here.