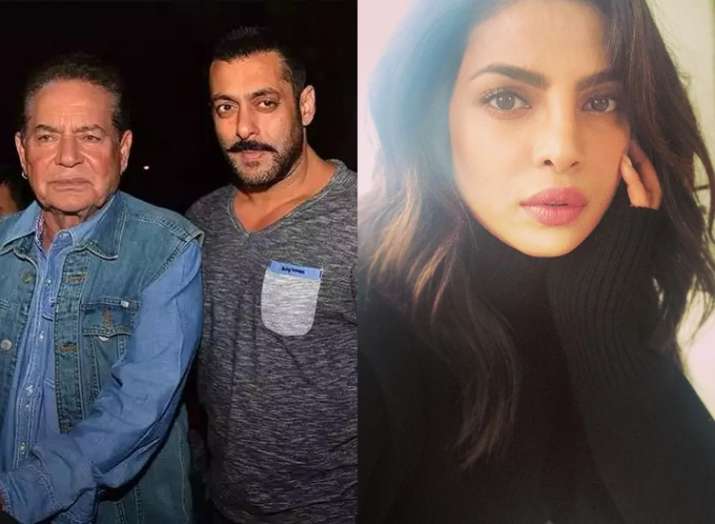 Desi Girl Priyanka Chopra has stirred quite a storm in Bollywood after her controversial exit from Salman Khan's Bharat. While some claim that the actress' engagement to beau Nick Jonas is the reason, others believe that PeeCee was not happy with the screen space she was getting in the movie. Earlier, there were reports that superstar Salman Khan is upset with Priyanka's decision to leave the film but now father Salim Khan has put a full stop to them.
In an interview to SpotBoye, Salim said actors leave and join projects all the time and it's nothing new. "It's okay whatever happened. Priyanka is not doing Bharat, let her be. Such things happen in our industry," he said. When asked if the film's team was angry at Priyanka for leaving the film just when the shoot was about to begin, he said it was not true.
(Also read Katrina Kaif to replace Priyanka Chopra as female lead in Salman Khan's Bharat?)
"Nope, it's not the nth hour. And I repeat, such things happen- sometimes they happen for date issues, or the role, or even the money aspect. Aur kabhi aadmi ki kuch apni majbooriyan hoti hai. I haven't yet got into the details of why Priyanka left Bharat, but we shall soon cast someone else. We are not upset with Priyanka. Salman Khan is also not upset," he added.
When asked who will replace Priyanka, Salim Khan was crystal clear in his thoughts and said, "Koi bhi aa jayeja (uski jagah par). Bahut saare log hain. (Anyone can replace here. There are many people)," he said.
It all started when Bharat director Ali Abbas Zafar confirmed the news of Priyanka's exit from his film and tweeted, "Yes Priyanka Chopra is no more part of @Bharat_TheFilm & and the reason is very very special , she told us in the Nick of time about her decision and we are very happy for her ... Team Bharat wishes @priyankachopra loads of love & happiness for life."
Yes Priyanka Chopra is no more part of @Bharat_TheFilm & and the reason is very very special , she told us in the Nick of time about her decision and we are very happy for her ... Team Bharat wishes @priyankachopra loads of love & happiness for life 😊😉😍

— ali abbas zafar (@aliabbaszafar) July 27, 2018