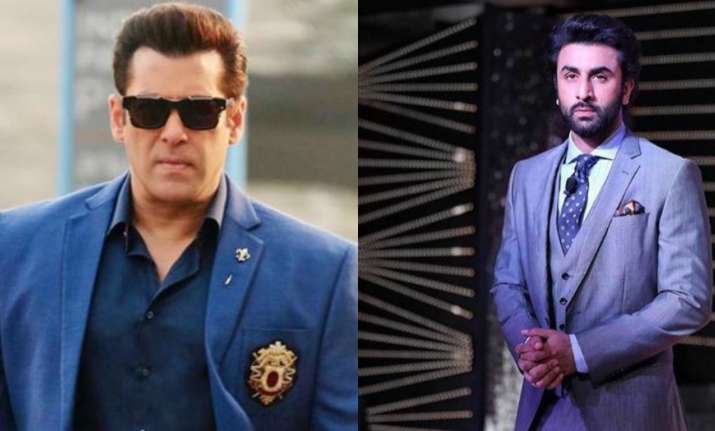 Ranbir Kapoor is getting immense praise for his role in Sanju. The way he has presented himself including his body transformation has left everyone amazed. From his multiple looks to dialogue-delivery style, everything strikes a similarity with Sanjay Dutt's persona.
If the trailer is anything to go by, then we have to admit that Ranbir is set to blow our mind with his performance. However, Salman Khan has a different opinion. The Race 3 actor believes that Dutt should have played the latter part of Sanju himself. Salman believes that no one could have played the part better than him.
Now, when Ranbir was asked to comment on Salman's statement, he said that no one has played himself in his own biopic as this destroys the effect of character. '' I knew that I will be compared to Sanjay Dutt and that is why I have tried my best to do justice to his role. Whether people see me in 40-year old Sanjay Dutt's avatar or 20-year old, they should feel that they are watching an artist who is playing Sanjay Dutt. It is correct that I cannot become a second Sanjay Dutt," he said.
It seems Ranbir Kapoor and Salman Khan do not share a good bond. The reason for friction could be their common love interest, Katrina Kaif. Salman has appeared in Ranbir's films such as Saawariya and Ajab Prem Ki Gazab Kahani but after that, they have avoided crossing each other's path.
Salman recently also had some issue with Ranbir's father Rishi Kapoor. After the veteran actor allegedly spoke rudely to Seema Khan at Sonam Kapoor and Anand Ahuja's reception, the superstar in an interview said, ''I don't have enemies. It's just that I don't like a few people. It's very obvious because I make no bones about it. Just because someone is born a few years before me, it's no reason for me to respect him. If that person keeps on disrespecting me or any member of my family, I refuse to give him due regard. There are one or two families from whom I have not got that respect and love. That's where it ends. Some people from the industry will never be welcomed in my home.''
Read complete interview: 'No reason to respect him', Salman Khan lashes out at Rishi Kapoor for misbehaving with his sister-in-law
For all latest news, keep checking our Facebook page