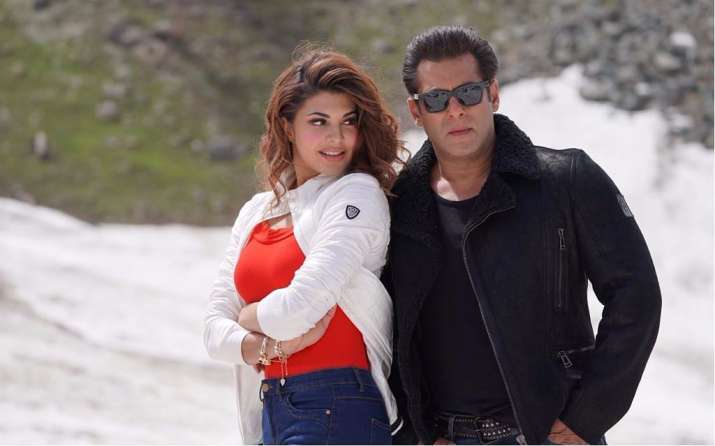 Jacqueline Fernandez, Anil Kapoor and Salman Khan were on the sets of dance reality show Dance Deewane to promote their upcoming film Race 3. During an act, Jackie was super-impressed by a contestant too such an extent that she wanted to go and hug him. The boy, however, was in no mood to be hugged by the actress and he clearly said that in a very nonchalant manner, 'mann nahi nahi.' His innocent refusal threw everyone present there into a laughter fit.
Salman Khan, however, made sure that Jacqueline Fernandez gets to do what she wanted. He playfully lectured the kid on why he doesn't want to get hugged by beautiful Jackie. He then dragged Jacqueline to the stage and held the boy as the actress came to give him a hug. Later, he just came close and bumped into her, which threw the audience into another fit of laughter.
Jacqueline shared the video clip from the incident on her Instagram account. She wrote, "Kids usually love me, this boy was an exception.. at least I got my hug in the end."
However, the reactions on the video are not as cheerful as the people in the video are. Fans are lambasting Salman and Jackie for not respecting the boy's consent just because he is a child.
"All I can see is a visibly uncomfortable child. Jesus! What the f*** man? The child clearly said no and you have the audacity to post this on Insta," a comment read. "Where is your respect for the child's preference/choice. He did not want to touch/hug you and categorically stated that. But yet you and Salman showed no respect for that just because he is a child," wrote one user.
Some even related the incident to famous Amitabh Bachchan dialogue form Pink, 'No means no.'
Social media is outraged to see Salman Khan forcing a child to hug an actress.
However, there were some netizen who believe that a friendly banter between the child contestant and Jacqueline Fernandez was 'totally blown out of proportion.'
"It's not an assault, i don't know why we Indians have become such dumb to make everything an issue... a father can hug his children even if the kid doesn't want it because we know the intention of the father towards his children... if the intention is not bad, it's no abuse... we should be intelligent enough to figure out the difference.," argued one user.
What do you think about this video Jacqueline Fernandez shared on her Instagram page? Do let us know in the comment section.