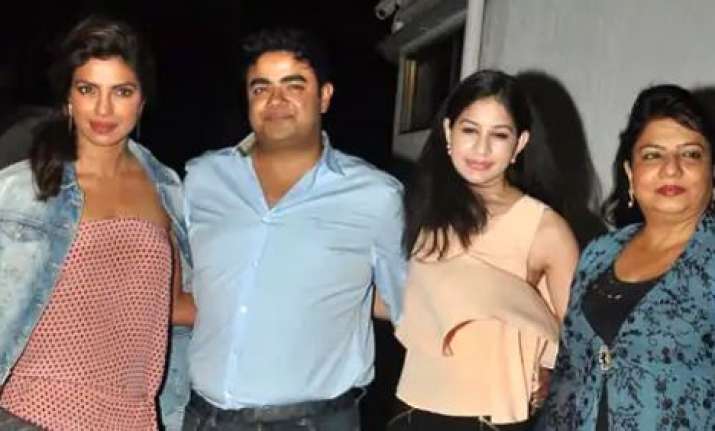 Priyanka Chopra's brother Siddharth Chopra's wedding has been canceled. Amidst all the rumours, mom Madhu Chopra confirmed that the wedding has been called-off mutually. As per an entertainment portal, Madhu Chopra said, ''They (Siddharth and Ishita) have mutually called it off''. However, she did not elaborate further. Siddharth was all set to marry Ishita Kumar in Delhi by the end of April. Even Priyanka came to India to reportedly attend the wedding. However, news came that the wedding has been postponed due to Ishita's surgery and later it was reported that it has actually been called-off. 
Siddharth and Ishita's roka took place on February 27. Priyanka along with Nick attended the roka ceremony and even shared the pictures of the happy couple. She congratulated them on their new beginning and welcomed Ishita to her family.
However, a couple of days back when Ishita deleted all her roka pictures, it raised many eyebrows. Moreover, her latest posts fuelled the speculations. ''Cheers to new beginnings With a goodbye kiss to beautiful ending,'' Ishita wrote alongside her picture. ''Friday night with BFF!,'' she captioned another post. Check out the photos below. 
But do you know this is not the first time Siddharth's wedding has been canceled? Back in 2014, he had roka with his then-girlfriend Kanika Mathur and was all set to marry her in Goa on February 2015. But again the wedding was suspiciously called off for unknown reasons. Later, a source close to the family was quoted saying, "Siddharth wants to concentrate on his career and his new venture (a pub-lounge in Pune). Pushing it ahead was a big decision for both the families. Priyanka is also not in the country at the moment and the wedding cannot take place without her."