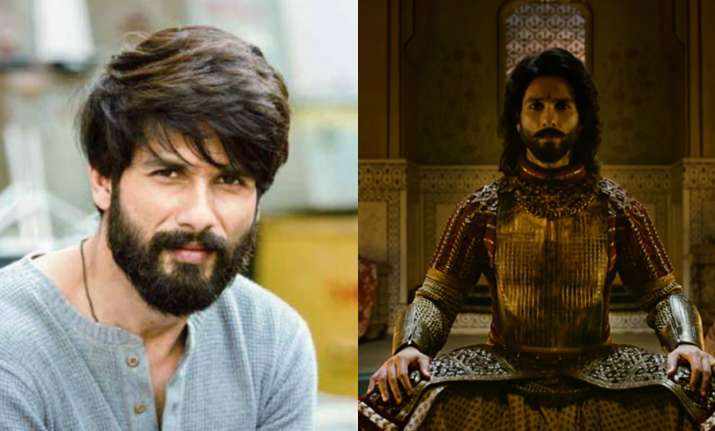 Though Karni Sena is not leaving any stones unturned to intimidate people to not watch Padmaavat, however, undeterred by this fans are moving to theatres. Many people watched first day first show of Sanjay Leela Bhansali's magnum opus and went gaga over it. Fans praised the magnificent scale of the movie and the acting skills of all the lead actors. Ranveer Singh, Deepika Padukone and Shahid Kapoor have been continuously reacting to their fans' tweets.
Twitter is flooded with the reactions and stars are overwhelmed by it. Shahid who essayed the role of noble king Maharawal Ratan Singh in the movie is receiving a lot of love for his performance. Many of his fans believe that despite a small role, his acting was better than Ranveer's. The Haider star retweeted a reaction video in which a man is comparing Shahid's acting to that of Ranveer. He says that Shahid has lesser screen presence but he has nailed it. ''Each time there is a face-off between Shahid and Ranveer, the Rangoon actor emerges to be the better one. At the last, all the sympathy goes to Shahid,'' he said. Watch the video here
January 25, 2018
Earlier in an interview, Shahid said that he 'felt like an underdog' during the shooting as he was new to the trio of Bhansali, Deepika and Ranveer.
Earlier, a screening was held for film fraternity which was attended by many including Shabana Azmi and Javed Akhtar. Slamming the protesters, the noted lyricist said, ''I saw the film and I feel it is among the most accomplished achievements I've seen in Indian cinema in recent times. I fail to understand what the protesters are protesting against". Shabana Azmi was excited after watching the movie and even went on to say that it should be sent as India's entry to the Oscars.
Meanwhile, Karni Sena has declared to make a film on director Sanjay Leela Bhansali's mother. The fringe outfit who are protesting and resorting to violence over the inaccurate portrayal of their Maa Padmini said the title of the film will be Leela Ki Leela.
For more entertainment news and updates, follow our Facebook page