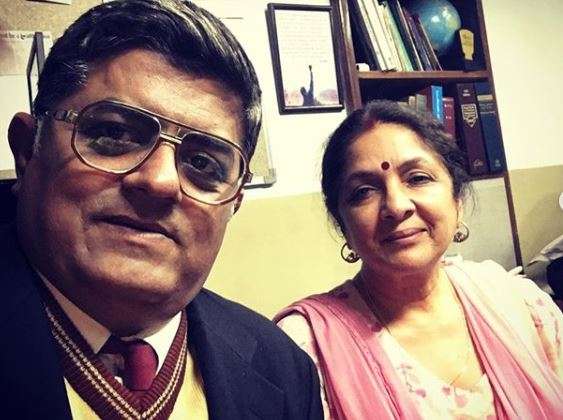 For Gajraj Rao, Badhaai Ho is no less than a miracle. After being in the industry for over two decades, it is Ayushmann Khurrana starrer that gave him due recognition and popularity. However, Rao not relies on just acting for financial security as he firmly believes that it is not a lucrative profession unless one is a superstar.
''It's a miracle, it's magic," says Gajraj, not talking about his Badhaai Ho character impregnating his wife at an age when couples cradle their grandchildren.
Gajraj is dumbfounded by the success the film has got him. "The calls, the messages, friends and strangers alike are calling from all over the country and from outside. I never imagined this film would change my life and career. But it has. It is all destiny," said the actor, who has been around since 1998.
Ayushmann Khurrana, Sanya Malhotra starrer Badhaai Ho told to cut smoking scenes
He doesn't see his years of struggle as struggle. "It was not as if acting was my only means of livelihood. I made sure my family didn't have to suffer the consequences of my passion for acting."
While pursuing his acting career, Gajraj also dabbled in the business of garment export. He also tried his hand at Hindi journalism for a while. And he owns an ad-making agency Code Red Films. All these pursuits serve as financial security for Gajraj and his family.
"I firmly believe acting cannot be a lucrative profession unless you are a superstar. That a major role in 'Badhaai Ho' has come so late in my career can only be called destiny. I never expected to get a pivotal role like this. It was Ayushmann Khurrana (who plays Gajraj's son) who recommended me for the role. I can't thank him enough, and the director Amit Sharma and the writers for writing such an interesting role for an actor who has never done a central part before."
Badhaai Ho Box Office Collection Day 10: Ayushmann Khurrana, Sanya Malhotra film earns ₹ 76 cr on second saturday
Reminded of the hard-hitting real-life TV crime drama Bhanwar in which he had played a child rapist, Gajraj recalled his beginnings. ''It isn't as if Badhaai Ho is the first role I've been recognised for. Off and on for films like Black Friday, Yahaan and No Smoking, I was noticed and praised.
"My last screen appearance was in Meghna Gulzar's Talvar, where I had a brief but interesting role. And my stint in the web series Tech Conversations With Dad for The Viral Fever connected me to the young audience. But earlier when I was recognised by someone at the airport or at an event, it was like, Aapko maine kahin dekha hai (I've seen you somewhere). Then I would launch into my own biodata to tell the person who I am."
Badhaai Ho star Gajraj Rao: Hoping to get big role in commercial cinema now
But after Badhaai Ho, he says it is for the first time that he is being called out by his name. "When someone shouted, Gajraj at a public place for the first time, it was music to my ears.'' The world of Kaushik, the character that Gajraj plays in Badhaai Ho, is familiar to him. "My father was in the railways, just like my character in Badhaai Ho. I've spent all my growing up years in a flat in a railway colony. Doing this film was in many ways a process of reclaiming my past."
The one trait that Gajraj shares with his character in Badhaai Ho is their love for the wife. "My wife told me to enjoy all this attention for a fortnight and then come down to the earth. It is very important for an artiste not to get carried away by attention.'' 
(With IANS inputs)
More stories and picture galleries
For all latest news and updates, stay tuned to our Facebook page