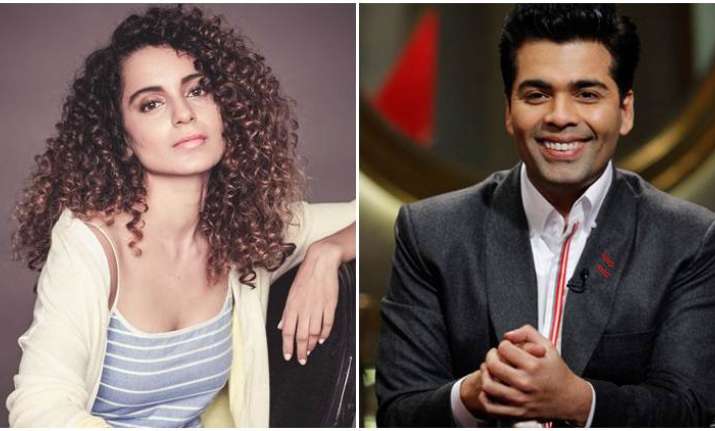 Bollywood actress Kangana Ranaut, who will be seen next in Manikarnika: The Queen of Jhansi, spoke about industry's most talked-about filmmaker, Karan Johar. Kangana questioned the lack of any attention to the most relevant topic affecting Indian film industry today, #Metoo and expressed her disappointment at the perception of actresses as mere dating objects without any in depth conversations being meted out through the promos.
"I have been speaking about it every day. But, now, more significantly, more people need to come out and talk about it. It's just not one person to talk about it. It's important for people like... Where are people like Karan Johar, Shabana Azmi, they should also come out and talk. Karan Johar always has views about gym looks, airport looks, he tweets ten times about it, what about this? This is their identity, this is their bread and butter, Film Industry when it's going through such an important shift, where are they? It's important that other people also now join this movement", Kangana Ranaut was quoted as saying in a media interaction.
Taking about the silence of her peers Kangana remarked, "When the Industry is going through such a shift why are these A-list actresses not sharing their stories? I am the only one, you guys come every day. I don't know who calls you but honestly, I have spoken a lot, it's not for one person to talk."
Kangana also spoke about the need for better role models amongst our Bollywood heroes. "This has to be made clear, we need to promote men who are, I don't know what they do in their real lives, we are not here to judge them but at least who project to be one woman man. like somebody who pretends to be a Casanova, we don't have to glorify that, we don't have to glorify a culture where you date a woman for ten years and then just abandon her and change women like clothes, we don't have to glorify that. I am not judging them, they are all my friends, they are lovely. But, this is the time when it can't be just like... c'mon Karan Johar."