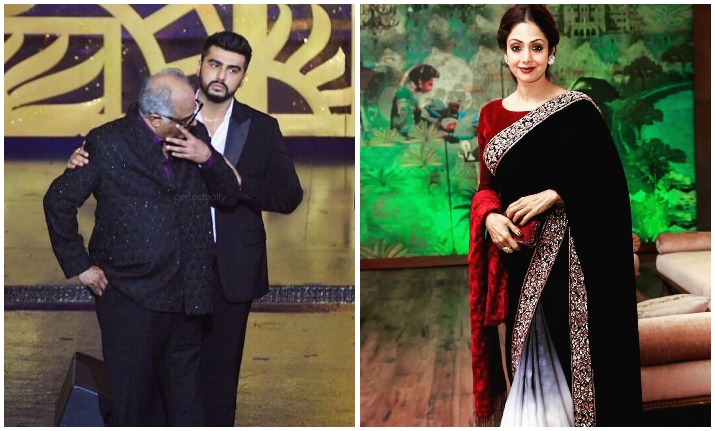 As Bollywood celebrities got emotional while Sridevi was awarded posthumously with Best Actress Award at IIFA 2018 for Mom, several thousand fans present there jerked a tear of their eyes. It was a rather emotional moment for the entire film fraternity and mostly for husband Boney Kapoor who was present at the gala to receive the honour on her behalf. As expected as it was, the heartbroken filmmaker broke down as he accepted wife Sridevi's award. Wiping tears of his eyes, he announced that he dedicate this award to the entire team of Mom.
Letting out an emotional speech, he said, "I have mixed emotions today. I miss her every minute and second of my life. I still feel she is around here....I want you all to support Janhvi like you supported her mother."
While Boney Kapoor struggled with multiple emotions of grief, happiness and gratitude standing on the stage, his son Arjun Kapoor stood by him and offering all the emotional support he needed at that moment. The picture of Arjun having his dad's back is going viral on the internet.
Boney Kapoor's brother and Bollywood actor Anil Kapoor also stepped up on the stage to console his brother.
Arjun Kapoor and Anshula Kapoor stood by their half-sisters Janhvi Kapoor and Khushi Kapoor through this tough time after Sridevi's demise. Opening up about the same, Arjun earlier tweeted, "Me and Anshula Kapoor represent our mother every single second we live. She would expect us to have been standing next to our father no matter what and be there for Janhvi and Khushi."
Talking about Sridevi's performance in her last film Mom, she played the role of a mother who vouches to avenge the rape of her daughter by going vigilante. Her co-star Nawazuddin Siddiqui won the Best Actor in Support Role for the same film. He dedicated his award to the late actress.