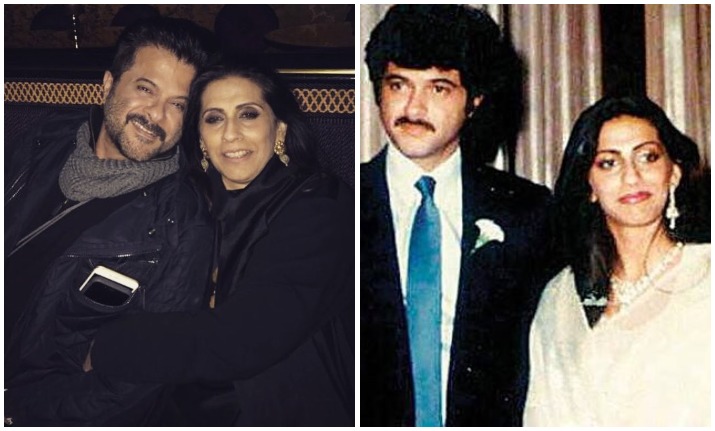 While Fanney Khan is in the talks as the Anil Kapoor-starrer is scheduled to release in just few days, the actor slipped out some major details about his personal life. The 61-year-old actor opened up on how he met his ladylove and wife Sunita Kapoor and how they both created a world together that includes their three children, one of which is Bollywood actress Sonam Kapoor. In an interview to Human of Bombay, Anil Kapoor spoke at lengths about his love story and how he fell in love with the now-mother of his three children, Sunita Kapoor.
He revealed that their love story started with a prank call. Someone gave Sunita Kapoor his number to prank call him. That's when Mr. India was smitten by her voice. They met and became close friends. They discussed everything, including Anil Kapoor's then love interest, an unnamed lady. It was when this anonymous woman walked out of Anil's life, Sunita Kapoor entered his life as his life partner. They knew they were in love with each other without an official proposal, like those you see in Bollywood films. But the journey wasn't easy. Sunita was a banker's daughter and an established model while Anil was still struggling to make a cut in Bollywood.
It was after Anil Kapoor's first breakthrough Meri Jung, that he asked her marry him the very next day! And it happened. In the presence of 10 people, they tied the knot to becomes Mr and Mrs Kapoor.
Also Read: Anil Kapoor & Sonam Kapoor has an 'Emotional Message' for Sunita Kapoor on her birthday
He wrote, ""A friend of mine gave Sunita my number to prank call me – that's when I first spoke to her and fell in love with her voice! A few weeks later, we met at a party and I was introduced to her...there was something about her that just attracted me. We started talking and became friends. We used to discuss this other girl I liked – you know, if I like her or she likes me? And then suddenly, that girl vanished, leaving me heartbroken. So my friendship with Sunita became stronger because of a broken heart!
Little did I know that Sunita was the one all along – we organically started dating. It's not like in the films – I didn't ask her to be my girlfriend...we both just knew. She didn't care who I was or what my profession is...it never mattered.
She was from a liberal family––a banker's daughter with a happening modelling career and I was totally bekaar! I lived in Chembur and she lived on Nepeansea road, so I would call her and say 'I'll take the bus and reach in an hour.' She would scream, 'No come fast by taxi!' then I'd say 'Arrey I don't have money' and she'd say 'Just come na, I'll manage' and pay for my cab!
We dated for 10 years – we travelled and grew together. She was clear from the start that she won't enter the kitchen and cook. If I said 'cook' I'd get a kick! So in my mind I knew, I needed to become something before asking her to marry me. I went through my share of struggles of not getting work...but there wasn't any pressure from her side...the support was unconditional.
So when I did get my first breakthrough, 'Meri Jung' I thought now house will come, kitchen will come, help will come...I can get married! So I called Sunita and said, 'Let's get married tomorrow – it's tomorrow or never' and the next day, in the presence of about 10 people we were married!
I went for my shoot 3 days later and madam travelled abroad on our honeymoon...without me!
Honestly, she knows me too well...maybe better than even I know me. We've built our life; our home together. We've raised 3 children and been through all kinds of ups and downs. But I feel like we're finally dating now – our romantic walks and dinners have just begun!
I mean...we've been together since 45 years––we've had 45 years of friendship, love and companionship. They don't make people like her anymore. She's the perfect mother, perfect wife...and the reason I wake up every morning, motivated. You know why? When I ask her, 'Arrey, yesterday only I gave you so much money' she says, 'Woh sab khatam ho gaya...it's all finished!' and I jump out of bed and run to work!"
On the work front, Anil Kapoor will be next seen in Atul Manjrekar's Fanney Khan which has Aishwarya Rai Bachchan and Rajkummar Rao in important roles. The film is about a tumultuous journey of a father and daughter in a middle-class setup. Anil Kapoor is playing the role of Fanney Khan who aspires to make her daughter a superstar just like Baby Singh (played by Aishwarya). The film is slated to release on August 3, 2018.