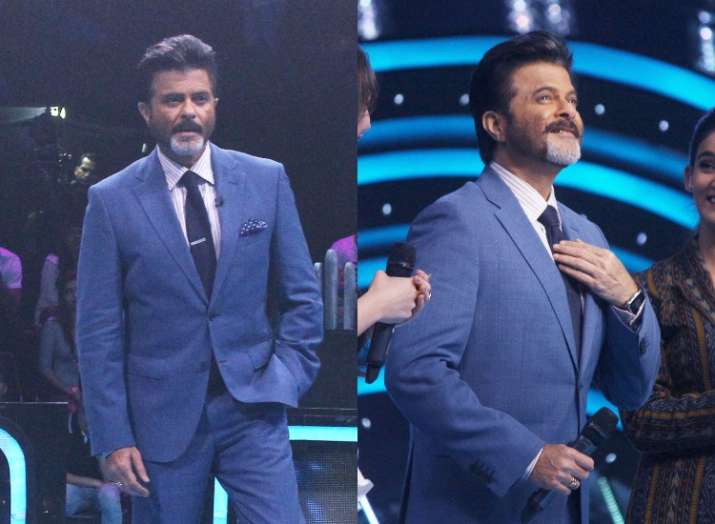 Bollywood actor Anil Kapoor, who is busy promoting his forthcoming film Fanney Khan, says that he started his career as a background dancer. Not many of his fans knew this about his personal life and struggles. Anil was on the sets of the reality show Phir Bhi Dil Hai Hindustani 2 with musicians Mika Singh, Sunidhi Chauhan and Badshah o Monday. While talking to the media present there, he recalled his struggling days and how he made his way into Bollywood with background dancing. 
Anil Kapoor made his debut as an actor in "Woh Saat Din" in 1983 after doing small roles in some Hindi, Telugu and Kannada films.
Talking more about the days, he said: "I completed my acting course but I wasn't able to get any work so, there was a show which was going abroad. In that show, there was Zarina Wahab Ji, Padmini Kapila, Hemant Kumar Saab and Nutan ji. When they were ready to go that time, they needed some background dancers so, I went there as a background dancer and I think, I used to get 15 pounds for one show at that time. I am thankful to all of them who gave me the opportunity to work in those shows."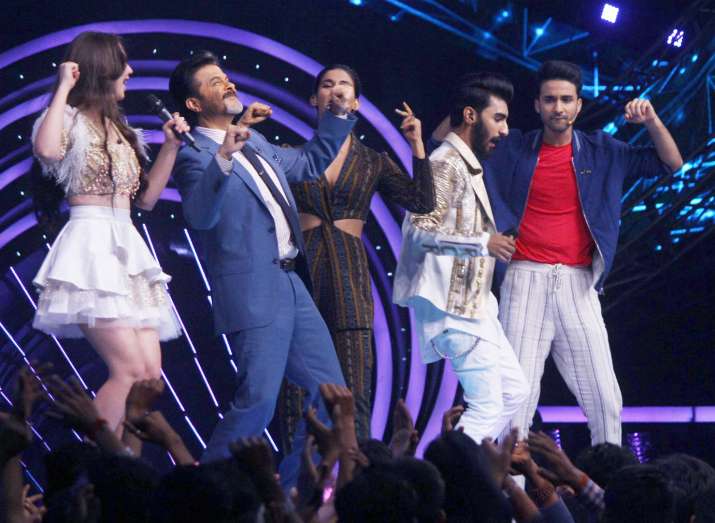 Going into nostalgia the "Mr. India" actor said: "I think, even if you are a background dancer or doing your thing in the corner if you work hard and if you are talented enough then people do recognize your effort"
Sharing her feeling to be part of "Fanney Khan", Singer Sunidhi Chauhan said: "I am very proud that I am part of 'Fanney Khan' and when I saw Anil sir in the trailer of the film wearing a simple shirt and playing a trumpet on a roof, it was such a beautiful visual for me."
"It's a beautiful story of a father and a daughter who supports her in her life and career so, the curiosity about the film has increased and I can't wait to watch the film," she added.
(Also read: Dus Ka Dum: Anil Kapoor promotes Fanney Khan on Salman Khan's show. See Pics)
Also, Anil Kapoor asked Sunidhi Chauhan who her real-life Fanney Khan was. Answering this, she credited her entire music career to her father who was the rock-solid support in her life. Later, the Fanney Khan actor shared the video on his social media account. 
.@SunidhiChauhan5's #FanneyKhan is her father who's constant support and motivation ensured she achieved all her dreams and aspirations. #MainBhiFanneyKhan @tseries @fanneykhanfilm pic.twitter.com/fHbCJnhrq2

— Anil Kapoor (@AnilKapoor) July 24, 2018
Similarly, Badshah, the rap king of Bollywood and Mika Singh also shared their stories with Anil Kapoor. 
.@Its_Badshah had a vision and eyes full of dreams when he met his mentor, his friend, his #FanneyKhan @RheaKapoor. His conviction made him believe #MainBhiFanneyKhan @TSeries @fanneykhanfilm pic.twitter.com/kg3skqi1W6

— Anil Kapoor (@AnilKapoor) July 24, 2018
.@dalermehndi is not just @MikaSingh's #FanneyKhan but mine too! #MainBhiFanneyKhan @TSeries @fanneykhanfilm pic.twitter.com/q9I6k6ADIT

— Anil Kapoor (@AnilKapoor) July 24, 2018
"Fanney Khan" is a musical comedy film, directed by Atul Manjrekar and produced by Bhushan Kumar, Rakeysh Omprakash Mehra, Anil Kapoor, P.S. Bharathi, Rajiv Tandon, Krishan Kumar, Kussum Arora & Nishant Pitti. 
It features Anil Kapoor, Aishwarya Rai Bachchan and Rajkummar Rao in the lead roles. It is an official remake of the Belgian film "Everybody's Famous!". The film is scheduled for a worldwide release on August 3.
Guess what is our review of Fanney Khan trailer!
(With IANS inputs)