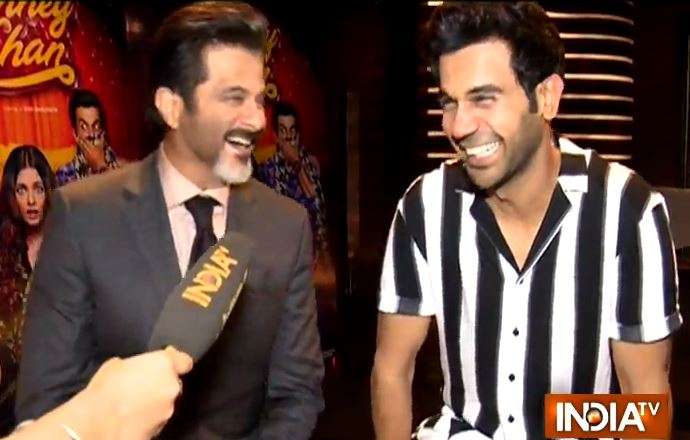 Dreams do come true but everyone is not lucky to see their wishes get fulfilled. We often put our dreams on back burner owing to responsibilities and pressure and Fanney Khan is the story of one such father, who wants his daughter to pursue her dreams. Since its announcement, Fanney Khan has been creating buzz for myriad reasons. From marking the reunion of Taal co-stars Aishwarya Rai Bachchan and Anil Kapoor to casting Rajkummar Rao opposite Aishwarya as a lead pair, Atul Manjrekar's movie hogged immense limelight.
In an exclusive chat with indiatvnews.com, Anil Kapoor said though he has played the role of a father before, this one is quite different than his last character in Dil Dhadakne Do. ''I was super-rich, flirty and flamboyant in Dil Dhadakne Do but in Fanney Khan, I am from Hyderabad and driving taxi to earn a livelihood. My character in the film wants to be a singer but he fails, however, he wants his daughter to fulfill her dreams,'' said Kapoor.
The 61-year-old actor who has won two National Awards among several others revealed that initially, he was quite scared as Fanney Khan is Atul Manjrekar's debut film. ''I was nervous before, however, all my insecurities vanished as soon as I hit the sets. Fanney Khan is a very beautiful film and it doesn't seem it is Atul's first movie,'' the actor said.
We were also joined by extremely talented yet humble Rajkummar Rao. The rising star, who has become critics' favourite in recent times said that he didn't feel any kind of pressure while working with two senior actors- Anil Kapoor and Aishwarya Rai Bachchan. Meanwhile, Mr. Kapoor wondered as to who all were being addressed as senior actors, he is not the one. Talking about their bromance, Rajkummar said it was fun shooting with Anil Kapoor. ''Anil sir doesn't give serious vibes and even Aish is a very committed actor. Also, when you are working there is no pressure. You can't work under pressure,'' the actor said. 
Anil Kapoor and Pihu Sand play primary characters in Fanney Khan, so when Rajkummar was asked whether he is fine doing supporting roles at this phase of his career, he replied, 'why not?'. ''Rajkummar Rao is not the biggest superstar of the world. I am just an actor doing his job. If I will get something good I will part of that film. It is always good to do supporting roles in a good movie than a lead part in a bad film, at least you can proudly talk about the film,'' said the actor, who has also another movie, Stree, releasing on August 31.
Pihu Sand is playing the role of Anil Kapoor's daughter in the movie. Pihu, who has earlier worked as an assistant director gained around 20kgs and sported fringes for the role. When asked about her long audition for Fanney Khan, she said that the process went on for nine months and no one was telling her anything. ''Anil sir had join the star cast by then and I was excited at the idea of playing his daughter. I was becoming impatient but soon within 2-3 days, they informed me about my selection,'' said Pihu.
Besides talking about dreams of a common man, Fanney Khan also addresses a burning issue of body shaming. In the film, Pihu's character wants to be a singer but she is body-shamed and her talent is over-looked. Pihu has a piece of advice for those who have ever been body shamed. ''Ignore them. Focus on your work. Do what you love and stay with those who love you the way you are,'' said the debutante.
Fanney Khan, bankrolled by Anil Kapoor, Rakeysh Omprakash Mehra and Bhushan Kumar among others will release on August 3.
For all latest news and updates, stay tuned to our Facebook page