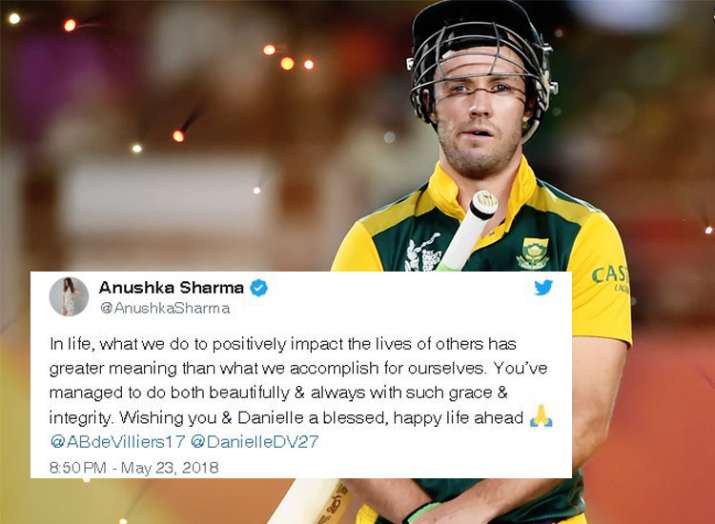 The world was in a state of shock after the most sought out South Africa cricketer AB de Villiers announced his retirement from International cricket. The way he was giving a hard time to the opposite team on the field, no one could have guessed that the ace cricketer is about to drop a bomb. Just like every other cricket fans, Bollywood celebrities were left knock out by the news.
While it is natural to take time after his shocking retirement announcement, it is also the time to applaud the ace cricketer for his smashing records and path-breaking career. Not just Anushka Sharma, but many Bollywood celebrities took to Twitter to congratulate the man for a spell-binding inning. Where Mirzya actress Saiyami Kher pleaded him to play a little longer, Arjun Kapoor wishes him all the luck for his future endeavours.
Here's what they wrote-
In life, what we do to positively impact the lives of others has greater meaning than what we accomplish for ourselves. You've managed to do both beautifully & always with such grace & integrity. Wishing you & Danielle a blessed, happy life ahead 🙏 @ABdeVilliers17 @DanielleDV27

— Anushka Sharma (@AnushkaSharma) May 23, 2018
Congratulations @ABdeVilliers17, what a spectacularly proud cricketing career you've had! Your game will be talked about for years to come. Wish you all the best for your future endeavors. #ABDevilliers

— Arjun Kapoor (@arjunk26) May 23, 2018
Oh noooo @ABdeVilliers17 please play a little longer. Please 😢 #abdevilliers

— Saiyami Kher (@SaiyamiKher) May 23, 2018
It was a delight watching @ABdeVilliers17 play the game. He's one of the finest cricketers the world has ever seen. Will miss his presence everytime I'll watch a match of @OfficialCSA. Best wishes to him for his post-retirement life. 🤗😊 #ABDevilliers

— Himansh Kohli (@himanshkohli) May 23, 2018
No!!! Can't imagine cricket without him! Will miss our cricket Superman #ABDevilliers @ABdeVilliers17 #retirement https://t.co/7Y9M0essdj

— Manveer Gurjar (@imanveergurjar) May 23, 2018
Legend #ABD 👏👏 Thank you for leaving the game richer and us fans with memories which will be etched in our hearts forever. #ABretires https://t.co/LYeEhgTfhW

— Nakuul Mehta (@NakuulMehta) May 23, 2018
Undoubtedly, the cricket world will never have another AB de Villiers and his contribution to the game will be written down in history. A man with this talent and spirit cannot be forgotten!