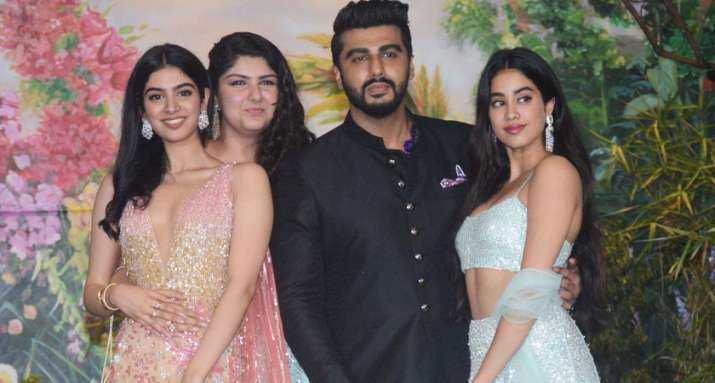 Where are we going as collective responsible inhabitants of social media? Is that all? Has our internet community just reduced to a bunch of wagging tongues with fake display picture? Unfortunately, yes. We have stopped growing spines and instead become a mindless, ruthless road-rollers who trample everything in our path with our never-ending hate. Recently, seeing what Janhvi Kapoor's half-sister Anshula Kapoor had to go through after the Koffee With Karan 6 task fail, has filled my heart with anger on what we've become. For those who came late, here's a brief on what happened this Sunday on Koffee With Karan season 6.
Janhvi Kapoor was present on the chat show with her half-brother Arjun Kapoor. Following the ritual, the show has a quiz game in which the actress had to call someone and make them say, "Hey Karan, it's me". Being close to her elder half-sister Anshula Kapoor, she immediately dialled her number and asked her to say that needed lines. Arjun, being a mischievous brother that we all have in our lives, asked Anshula not to say anything otherwise he won't come home. Anshula, being confused and probably sick (as Arjun said she was having headaches) couldn't say the lines in time and hence, Janhvi lost to Arjun Kapoor.
Followed by this little fiasco, which was let go by the siblings, the intellectual community of social media began trolling and bashing Anshula for what she did. Not only this, they did something so disgraceful to make anyone's head hang in shame. The girl is receiving RAPE THREATS on social media just for a petty game! What does it tell about us? Has rape become such a trivial, coming and going thing for people? If that's the case, then I'm not afraid to say that I'm ashamed of social fellow netizens (read citizens). I'm ashamed to call them the members of my own species, who were supposed to be the most evolved and mindful than the other species. But I guess, the animals are doing better than.
Sharing her and her sister's ordeal on an event, Janhvi Kapoor told Priyanka Chopra, "You want to protect the people in your life. Like for example my sister actually just recently got trolled on social media. She did something silly on Koffee with Karan and started getting like rape threats and stuff. And it was just weird to me. As people are faceless on social media, they feel they can have opinions that sometimes cross a moral line. So when I put stuff that's personal up on social media, I do think of that too. I feel protective towards them... what people might say about them or about my equation with them. You tend to be guarded."
Well, the sick-minded trolls who hide behind fake DP's and fancy usernames, it's high-time to bring your head above that murky world of yours. Internet is not going to ensure your safety, despite all these nuisances you create. It's high to become humans, more than just social media trolls! You're better than this. You're better than the hate or say, inferiority complex you're inhabiting in yourself. Yes, they are star kids. Yes, they get everything served in a platter. So what's their fault? Just their genetics? Instead of targeting celebrities just for their stardom, try to make a life for youself; a LIFE outside social media.