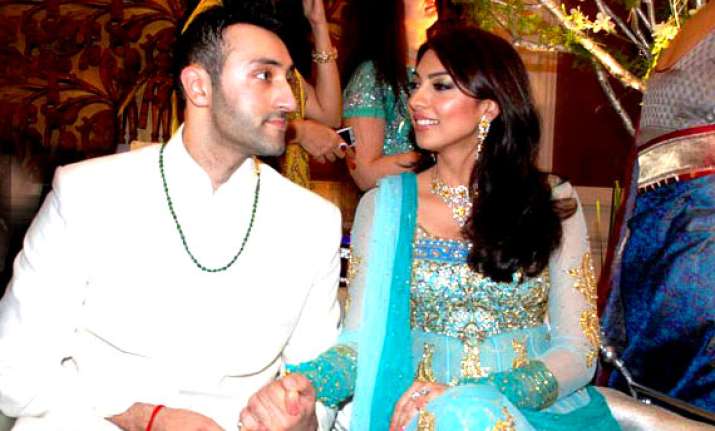 Mumbai: Former Miss World Yukta Mookhey and her estranged husband Prince Tuli today informed Bombay High Court through their lawyers that it was not possible to have an amicable settlement to their matrimonial dispute.
Mookhey's counsel Jamshed Mistry and Tuli's counsel Filji Federick made a statement in the court that it was difficult for both of them to come to terms.
Justice Sadhana Jadhav observed that after going through the papers and meeting the couple in her chambers, the court had also found that it would be difficult for the duo to settle the family dispute amicably.
The judge then adjourned the matter to October 21 to hear the anticipatory bail application of Prince Tuli, who feared arrest in a case of alleged cruelty and domestic violence filed by his wife.
The judge had recently summoned the couple to her chambers and asked them to settle amicably. The meeting lasted for more than two hours but Yukta and Tuli could not see the possibility of settlement and informed the judge accordingly.
On August 31, a sessions court had rejected Prince Tuli's plea for anticipatory bail. The same court had earlier granted him protection from arrest.
Being aggrieved, Yukta had moved the High Court challenging sessions court order granting Tuli interim protection. The High Court asked Yukta to approach the sessions court which was to hear Tuli's pre-arrest bail.
In a complaint to police in July this year, Yukta had accused her husband of subjecting her to domestic violence and forcing her to have unnatural sex. She also accused her in-laws of being cruel to her and harassing her.
Fearing arrest, Tuli and his family sought anticipatory bail. While a sessions court granted pre-arrest bail to Yukta's in-laws, a similar plea of her husband was rejected.
The sessions court had earlier observed that domestic violence was not made out in cases filed against Tuli and family.
However, the High Court, while hearing Yukta's plea, had observed earlier that the sessions court had not taken into consideration that the offence under section 498 A (cruelty) IPC was a "continuing offence".