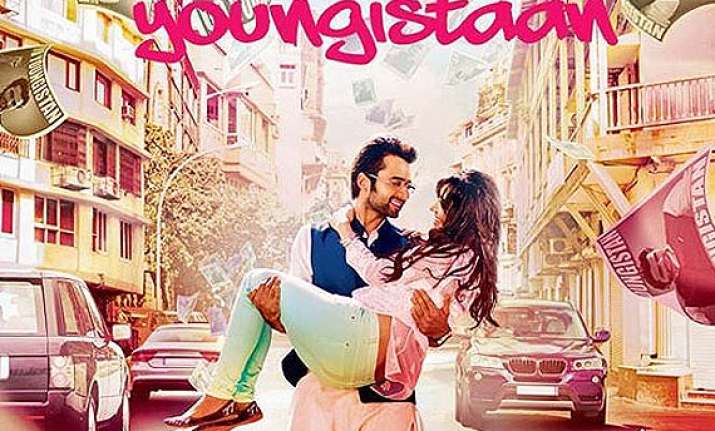 Youngistaan, like Jackky Bhagnani's other offerings, is a flick that rolls around the youth of the country.
Cast – Jackky Bhagnani, Neha Sharma, Farooq Sheikh, Boman Irani, Kayoze Irani
Director – Syed Ahmad Afzal
Music Director – Jeet Ganguly, Sneha Khanwalkar, Shiraz Uppal, Shree Isshq
Set in a political turmoil, the plot has got nothing new but the similar story of how a youngster faces an over-the-night change in his life. But, making the story intricately woven with the kind of political backdrop and hardships shown in the movie is something not touched before.
Jackky Bhagnani has done a fair job to his character Abhimanyu Kaul, a funky-lively son of a powerful father who is rejoicing his life in Japan with his live-in partner. The saga of his life takes a u-turn when he is compelled to take his father's seat as India's youngest prime minister. His father (Boman Irani) succumbs to sudden death but tells Abhimanyu to continue his legacy and not refuse when he is asked to take his father's seat and sworn in as India's next Prime Minister.
The carefree, partying jerk, Abhimanyu can no longer live his usual life and though confusingly, he accepts being the PM of the nation. Now here's the dashing 28-year old PM, who has even got his girlfriend's name, Anwita inked on his right hand. How will this man who is so dumb that he even doesn't know what it means when his secretary says that she is his right hand, will dig the people sentiments and assure them that he is the right choice!
And the glamorous character of the film, Anwita, played by Neha Sharma seems a fresh sight between all those juggles, busy-snobby frames in the film. The beautiful scenic backgrounds surely enchants you each time when this lovely couple comes on the screen. Their chemistry in the film provides a few light-hearted moments amid those heavy dose of political havoc. While their bond gets wrapped with uncertainties all around, their love remains intact and that's where Abhimanyu comes out flaring with enthusiasm and all the zeal to the show what a young minded PM can do to the country.
The only man of worth in his life is his Akbar uncle, played by Farooq Shiekh. Akbar, the PA to the PM is the man of senses who suggests directions to Abhimanyu but let him guide his own way. A tremendous on-screen performance that will unfortunately remain the last character played by the brilliant actor. I must say that only Farooq Sheikh could put life and verve in the character which is not-so-perfectly drawn.
Will this debonair politician, who never shys walking down the poor streets of the nation in his perfect designer wear be able to spread his 'youth' charm among the people of the country?
Director Syed Ahmad Afzal has put a brilliant effort to do a usual political drama but with a distinct angle. The film will surely intrigue the youth and will definitely leave an energetic impact on the viewers with dialogues like ''mujhe vote dijeye ya na dijeye, lekin vote zaroor dijeya. Ye aapka haq hai," but I am afraid this impact would get restrained to the theatre's walls. 'Youngistaan' lacks the power to let the audience hold on to his characters and the screenplay. The characters are creatively sketched but not powerfully good.
All in all, it is like a little more than a 'paisa vasool' movie that you'll watch, realise but won't be able to absorb. Jackky gets better in his acting with 'Youngistan' but you'll miss his 'Faltu' charm; Neha Sharma does good use of her innocent beauty by being a perfectly peppy girl-friend. And Farooq Sheikh with all his extraordinary acting skills has given us his last on screen performance, which is needless to say a splendid offering with stark brilliance.
'Youngistaan' – not a perfect film, but an entertaining drama! Watch it and leave it!