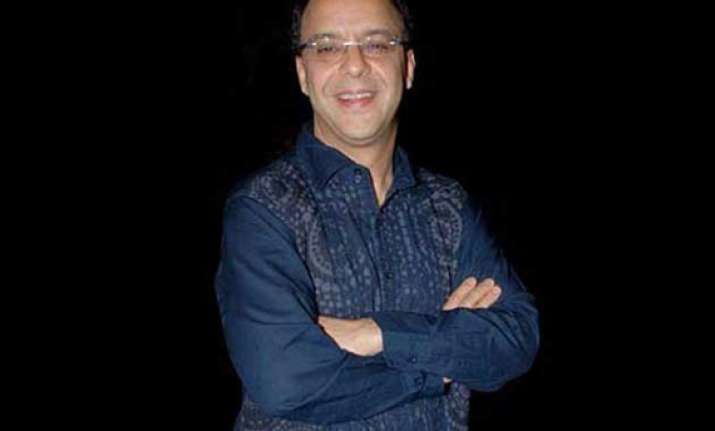 Mumbai: Vidhu Vinod Chopra, who has made top grossers like 3idiots, Parineeta, 1942 A Love Story, Mission Kashmir, Parinda, Munnabhai series and Ferrari ki Sawari, is angry over what he calls "rubbish films" getting Rs 100 crore box office collections nowadays.
In an interview, Chopra said, "Gussa zyaada aata tha, ab pehle se kam aata hai,lekin usske aane ka kaaran kya hai, that's the important thing.   
"When I look at the mediocrity of Indian cinema, when I look at some rubbish being made and people hailing it because it is touching 100 crore, I get angry. I say ki tum logon ka koi dharam imaan hai nahi kya." 
"Dhande ka bhi toh dharam imaan hona chahiye na yaar!  
"Humne 3 Idiots mein bahut business kiya, toh dhanda toh achha hua. Ferrari Ki Sawaari bhi aap likh ke le lo,bahut achha dhanda karegi. 
"Lekin dhanda ka usool hona chahiye. Maine Parinda mein dialogue likha thaa, Nana Patekar bolta hai, yeh dhanda hai, Kishan, aur har dhande ka usool hota hai." 
" Bhansali  has worked with me for eight years. He considers me his mentor. I hope he will come out of it.  
"But again,I can't be judgmental.  I don't know what kind of rejection he had to go through when he made Guzaarish. 
"He told some interviewer that you never came here after Guzaarish,you're here now and he's right. 
"Maybe this is some kind of revenge he's taking on the mediocrity that exists. 
"He's seeking some kind of recognition and acceptance,and if it's coming through this kind of cinema, then it's sad. 
"But I would like to meet and talk to him to understand what drives an artiste to this.I hope Ill never be driven to this." 
A brazenly politically incorrect Vidhu Vinod Chopra on why he knows his CA doesnt love his latest,but thinks the audience will
But if you talk of that,the obvious answer a filmmaker will give you is ki dhanda hai,paisa toh chahiye...
If its 100 crore that were talking about,whats your take on Bhansali producing a Rowdy Rathore,then