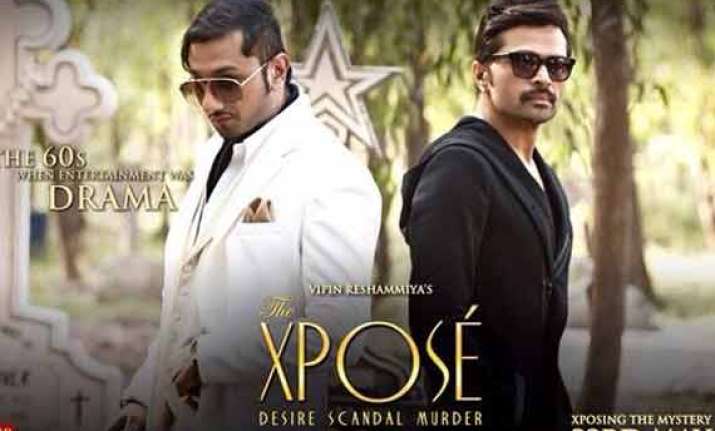 New Delhi: You may laugh on it, but undeniably will also love it. Himesh Reshamiya and Honey Singh look a lethal combination in the 60's era murder mystery 'The Xpose'.
The trailer is out and like its title, the flick has many exposures starting from Sonali Raut's replication of Zeenat Aman's famous transparent sari act in 'Satyam Shivan Sundaram' to some creepy dialogues like 'Tere shareer mein itna khoon nahi hoga jitna Ravi Kumar ek din mein moot deta hain', says Reshamiya playing an arrogant actor.
While witnessing Himesh, who looks slimmer but more confident than ever, delivering his dialogues and action, you laugh because somewhere in your mind you can't get over his expressionless acts in earlier flick. Having said that, this time it works in bits.
On the other hand, Punjabi rapper Honey Singh too looks promising, though, one would think how the rapping got prevalent in that era.
Moreover, the flick capitalizes over the punch lines and sequences, which are bold enough to make viewers whistle on them. I am afraid, it will turn unintentionally humourous.
With the likes of Irrfan Khan and Adil Hussain giving a back support, The Xpose looks heavier but a lot depends upon the content and portrayal of 60's era too.
Also starring Zoya Afroz, 'The Xpose' is directed by Ananth Narayan Mahadevan and is set for May 23rd this year.