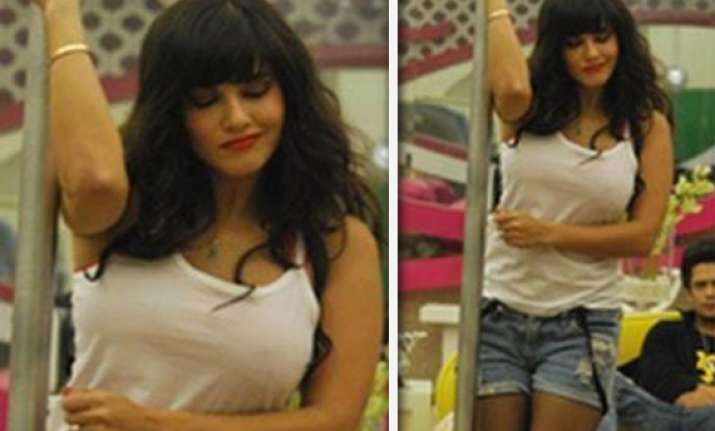 Mumbai, Dec 28: Indian TV watchdog Broadcasting Content Complaints Council (BCCC) asks channel to stop Sunny Leone's website from using Bigg Boss 5 to sell her porn videos.

The tv channel Colors has promised to evict her  if Sunny Leone doesn't desist, says a media report.

Though Sunny Leone's entry to Bigg Boss 5 has generated TRPs for the channel, yet the latest controversy has got the goat of the TV watchdog set up by Indian Broadcasters Federation.

Sunny Leone's website, which features her porn videos, had a prominent message on its home page that read As seen on Bigg Boss Season 5.

Use of the Indian TV show to promote her videos didn't go down well with the Broadcasting Content Complaints Council.

The BCCC has directed Colors to stop this cross-promotion of Leone's porn videos and sites by December 26.

Even though the home page has now been altered and the mention of the show removed, there are conspicuous links in Hindi, aimed at widening her Hindi-speaking fanbase.

The new home page now carries a Twitter icon that reads, How does Voting work this week If there are no public votes suggesting that her website is still using the show to garner public support.

The BCCC held that by signing Sunny up for the show and making her disclose her identity on Indian TV, the showmakers have been cashing in on the fact that Sunny has been a part of the adult industry.

Ever since Sunny entered the show, viewers, in an attempt to get more information about her online, have been accessing her porn website instead, which bothered the Information and Broadcasting ministry, but made Sunny the most Googled celebrity in India.

Wajahat Habibullah, chairperson of the National Commission for Minorities and a member of the BCCC,was recently quoted in reports as saying, "We all agreed that Sunny Leone has been using Bigg Boss on Colors to promote pornography which is classified as criminal activity in India. Therefore, she can't be allowed to use our television to promote her business. The channel has agreed to comply and report back on steps taken."

A Colors spokesperson said, "We did receive a complaint from BCCC regarding participation of Sunny Leone in Bigg Boss 5,and clarified our position.

"The BCCC has requested us to persuade Sunny Leone to not use Bigg Boss Season 5 or Colors on her websites.

"We have decided to write a letter to her informing that if the references to Bigg Boss Season 5 are not removed from her website, we shall immediately terminate her contract and evict her from the Bigg Boss house."