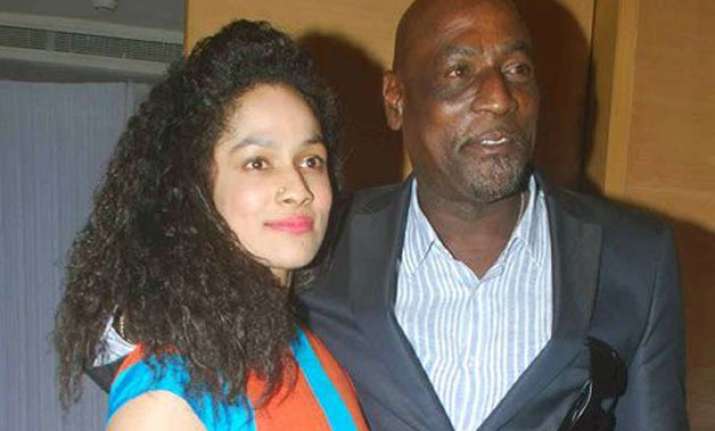 New Delhi: Sir Vivian Richards who failed to attend his daughter Masaba's engagement has promised her that he'll make it to her wedding.
 
Fashion designer Masaba Gupta, daughter of veteran actress Neena Gupta and cricketer Vivian Richards, got engaged to her beau Madhu Mantena, a film producer, at a ceremony in Mumbai.
 
While the ceremony was attended by close friends and family members alongside Bollywood celebrities including Sidharth Malhotra, Alia Bhatt and Huma Qureshi, Masaba's biological father and the legendary cricketer remained absent from the event.
 
However, during the ceremony there was a truly heartening moment with Viv Richards and his wife Miriam's touching speech through an AV. His wife recalled the first time she met Masaba. Masaba had hugged her and she immediately knew from that day that they would be friends.
 
Masaba's mom Neena Gupta too was extremely emotional at the ceremony as she asked her husband Vivek Mehra to take retirement since Masaba would not be there with her anymore and she would be all alone.
 
Richards has also warned his to-be son-in-law Madhu to take a good care of Masaba. The fashion designer and Madhu Mantena will tie knot in November this year.
 
Meanwhile, at her engagement, Masaba flaunted an ebony and ivory neoprene lehenga by designer duo Shivan and Naresh. The ensemble, though elegant, was a far cry from the blast of colours that the young designer often uses on her own creations.
 
She also shared a photograph of herself all decked up for her special day and wrote, "Kal hamaari sagai thi. Aaj hum khush hain. Aur 7 din mein hamaara show hai! Thank you for the love, now back to wrk".
 
Masaba will now get back to preparations for her show at the forthcoming edition of the Lakme Fashion Week next week.