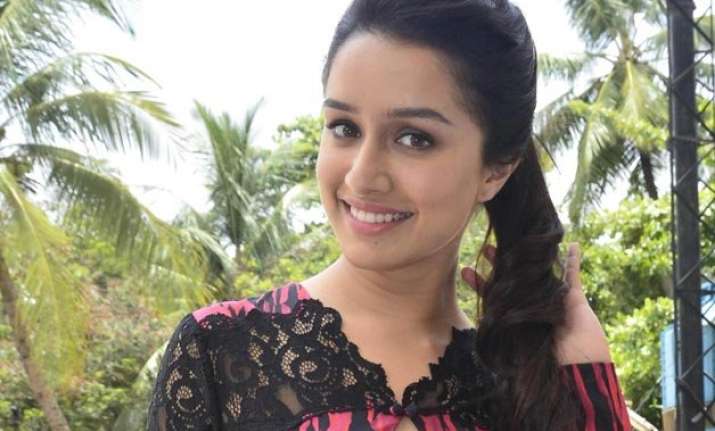 New Delhi: Bollywood! This industry has been attracting several youngsters every day to come and try their luck in the glam town. While people think that struggle for a star kid, who is trying make his/her presence felt in B-town, is somewhat easy; it is actually not the case for all.
Proving themselves in the industry is not just a cake walk for every star kid. Even they have to face their part of struggle. While some succeed in doing so, there are certain celeb kids who fail to leave their mark.
However, there is one star kid who has not just created a niche for herself in the industry but has also garner a lot of popularity because of her girl-next-door look, bindaas attitude and cheerful personality.
We are talking about the bubbly actress Shraddha Kapoor who had stunned everyone in 'Aashiqui 2' opposite Aditya Roy Kapur
Indeed, the movie made her an overnight star and soon everyone went gaga over her talent.
As Shraddha Kapoor is gearing up for the release of her forthcoming movie 'Baaghi', here we bring you some lesser known facts about the diva:
1. The bubbly girl, Shraddha Kapoor, who always shows up her fearless side, is actually scared of lightening.
2. Shraddha didn't make her debut with 'Aashiqui 2'; instead her debut movie was 'Teen Patti' with Amitabh Bachchan just because she is die-hard Big B fan.
3. The diva has a huge crush on Hollywood actor Johnny Depp and makes it a point to watch the first-day first show of Depp's movies.
4. Although Shraddha has been a topper in her college, the actress is a drop out from Boston University as she wanted to carry on with her passion of acting.
5. Shraddha Kapoor is way too obsessed with tea and prefers dealing with every stressful situation with 'chai'.
6. The 'Haider' actress loves to eat raw foods and her favourite dish is Sushi.
7. Shraddha is a adventure lover. She is a trained and certified scuba diver too.
8. Her favorite song is 'With the sunshine' by Ocean Drive while her favorite book is 'Shantaram'.
9. Shraddha Kapoor loves gardening. She has a beautiful personal garden where she has roses, hibiscus, tulsi, aloe vera, money plant, poinsettia, bougainvillea, mogra and other homegrown plants.
10. She loves romantic movies and her favorite one is 'Pyasaa'. A die-hard romantic at heart, Shraddha also loves 'Titanic' and 'The Notebook'.