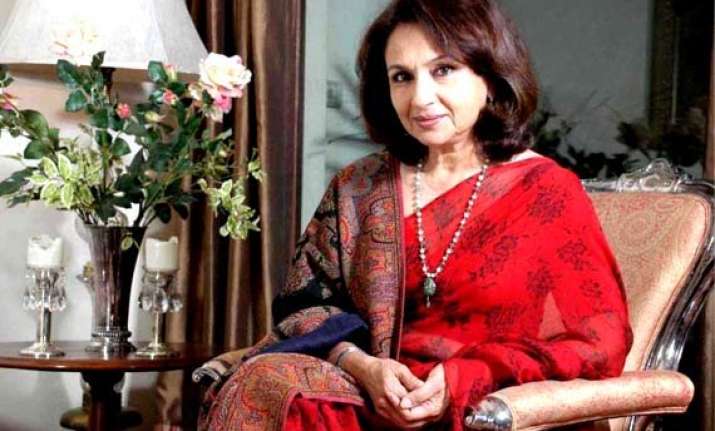 New Delhi: One of the living legends of Bollywood, Sharmila Tagore turned 70 today, and yet in the pre-autumn of her life, she still wows her audience with her presence and beauty.
The 'Kashmir Ki Kali' star has just no match for her beauty in Bollywood.  Here we bring you a few facts about Sharmila, who dominated Bollywood for a long time with her films, her decisions and her popularity among fans.
Sharmila Tagore, now Begum Ayesha Sultana was born in Hyderabad State to Ira Baruah, an Assamese and Gitindranath Tagore, a Bengali.
Sharmila Tagore's father Gitindranath Tagore, was then deputy general manager of the East India Company owner of Elgin Mills.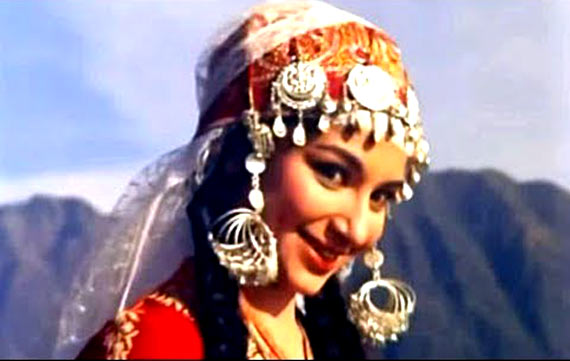 Sharmila's family was no where to be related to this glamorous world of cinema but somehow destiny played its part and Sharmila joined the tinsel town.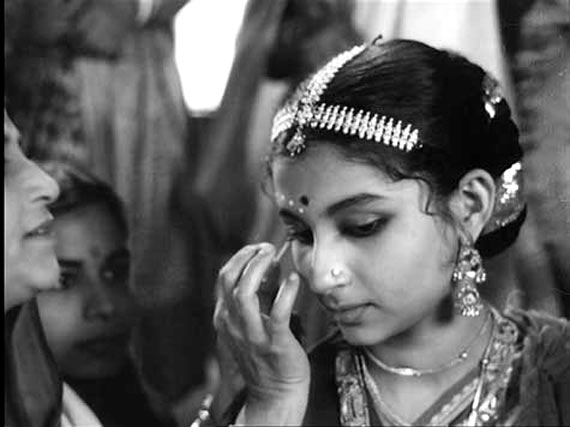 Sharmila began her career as an actress in Satyajit Ray's 1959 Bengali film Apur Sansar, as the ill-fated bride of the title character.
She later appeared in Shakti Samanta's 'Kashmir Ki Kali' in 1964. Samanta again cast her in many more films, including 'An Evening in Paris' (1967), in which she became the first Indian actress to appear in a bikini, which established Tagore as somewhat of a sex symbol in Hindi films.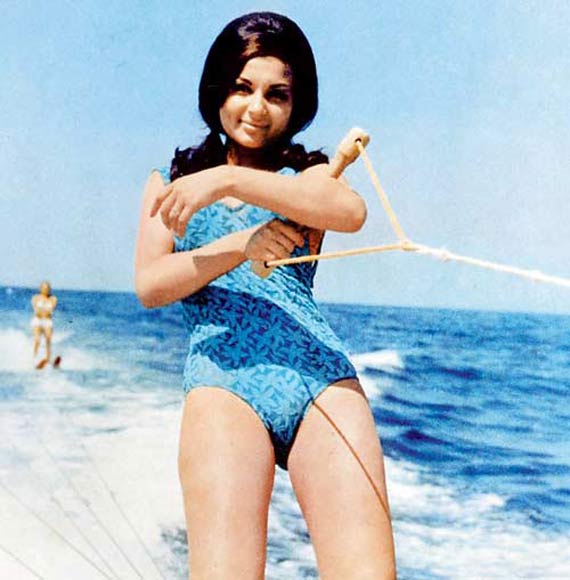 She also posed in a bikini for the glossy Filmfare magazine in 1968.But, when she was the chairperson of the Central Board of Film Certification, she expressed concerns about the increased use of the bikini in Indian films.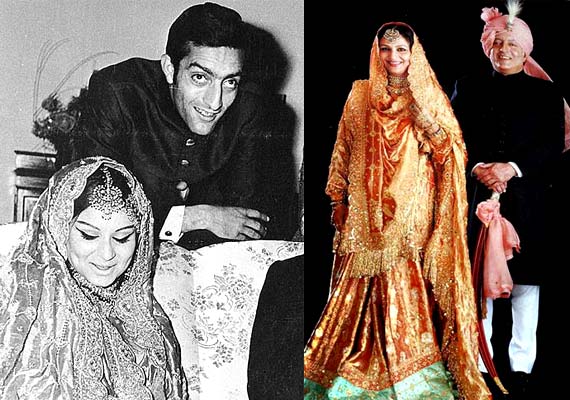 She married Mansoor Ali Khan Pataudi, the Nawab of Pataudi and former captain of the Indian cricket team on 27 December 1969. She converted to Islam and took on the name Ayesha Sultana.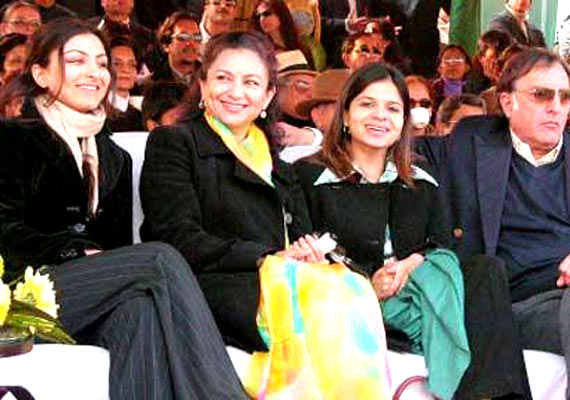 They had three children: Saif Ali Khan, Saba Ali Khan, a jewellery designer and Soha Ali Khan  a Bollywood actress and TV personality.
Sharmila Tagore with son Saif Ali Khan.
Sharmila later teamed up with Rajesh Khanna for movies such as Aradhana (1969) and Amar Prem (1972). Other directors paired them together in Safar (1970), Daag (1973), Maalik (1972).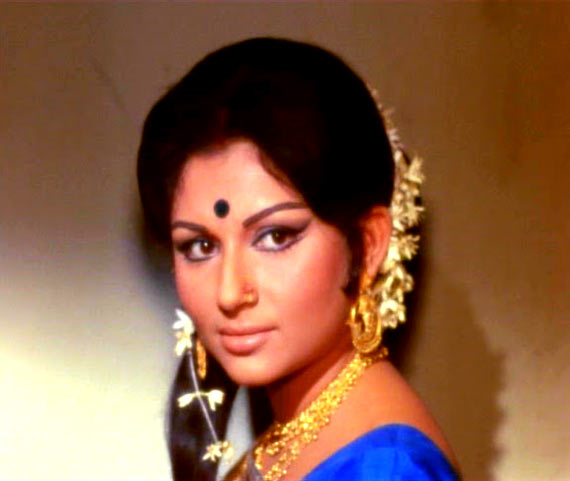 The pair of Rajesh Khanna- Sharmila gave 6 box office hits– 'Aradhana,' 'Safar,' 'Amar Prem,' 'Chhoti Bahu,' 'Daag' and 'Avishkaar'. She starred in Gulzar's 1975 film, Mausam and won the National Film Award for the Best Actress.
She also played a supporting role in Mira Nair's 1991 film 'Mississippi Masala'.
Sharmila Tagore also appeared in Marathi film 'Samaantar' by Amol Palekar. Sharmila acted in Vidhu Vinod Chopra's 'Eklavya: The Royal Guard,' which also starred her son Saif Ali Khan. They had appeared together earlier in 'Aashiq Awara' (1993).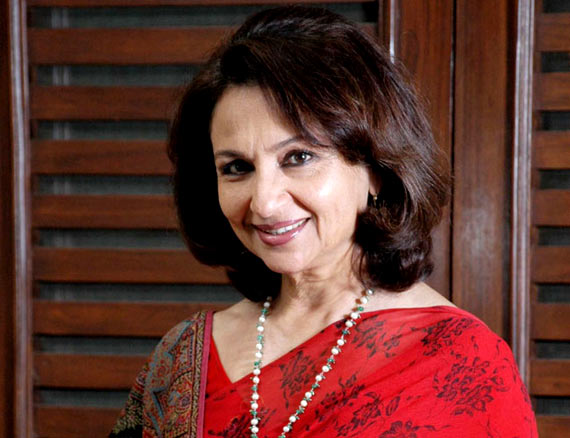 The actress has led the Indian Film Censor Board from October 2004 till March 2011. In December 2005 she was chosen as an UNICEF Goodwill Ambassador. In 2013, she was awarded Padma Bhushan by the Government of India.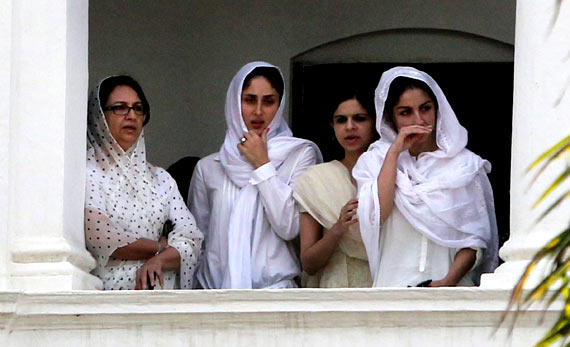 Mansoor Ali Khan Pataudi died, at age 70, on 22 September 2011.  The actress was seen clam and composed through out the phase of deep sorrow.
This beautiful actress was seen lastly in Deepika Padukone starrer Break Ke Baad.