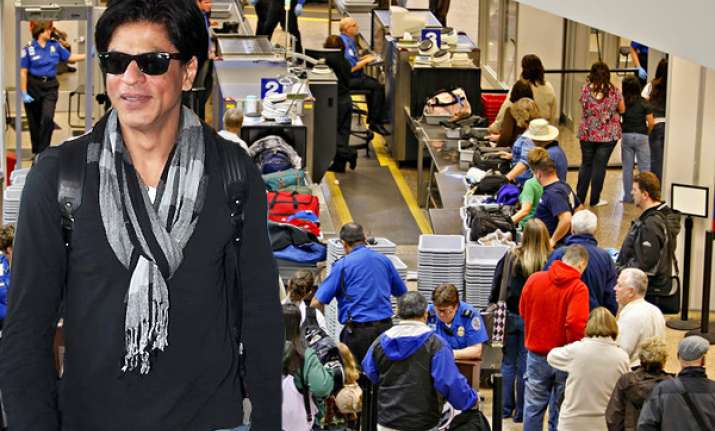 New York, Apr 13:
Bollywood actor Shahrukh Khan, who arrived here to visit the Yale University, was detained for over two hours at a New York airport.
Before addressing the students at the Yale University, which is three hours from New York, Khan said, he was "detained" at the airport "as always happens".
Khan, who has been named a Chubb Fellow, was accompanied by Neeta Ambani and they were understood to have arrived in a private plane at the New York's White Plain airport.
Ambani's daughter is a student of Yale University.
Sources told PTI, while everybody else were cleared by the immigration immediately, Khan was stopped for over two hours before being cleared by the immigration officials.
"Khan was very very upset at the episode. Yale University officials had to contact the Department of Homeland Security and the Immigration and Customs Department at Washington, when they come to know about his detention," sources said.
In 2009 also, he was stopped at the Newark airport and was released after two-hour of grilling.
In the past, several Indians, including film stars and politicians have faced such uncomfortable moments at US airports.
Meera Shankar, the Indian ambassador to the US (2009-2011)
December 4, 2010- Meera Shankar, the Indian ambassador to the US, was subjected to a pat-down search by security personnel at an Mississippi airport despite her travelling on a diplomatic passport.
Praful Patel
In September 2010, civil aviation minister Praful Patel was quizzed by US immigration authorities at the O'Hare airport in Chicago after his name and date of birth matched with that of another Praful Patel, who is on the US's watch-list
Former president Dr APJ Abdul Kalam
In April 2010, former president Dr APJ Abdul Kalam was frisked at the Delhi international airport by employees of an American airline when he was traveling to the New York
Shah Rukh Khan


In August 2009, actor Shah Rukh Khan was reportedly detained by US immigration officials at Newark Liberty International Airport in New Jersey because his name came up on a computer alert list
George Fernandes


Former defence minister George Fernandes had claimed that he was strip-searched twice at Washington's Dulles international airport, in 2002 and 2003.